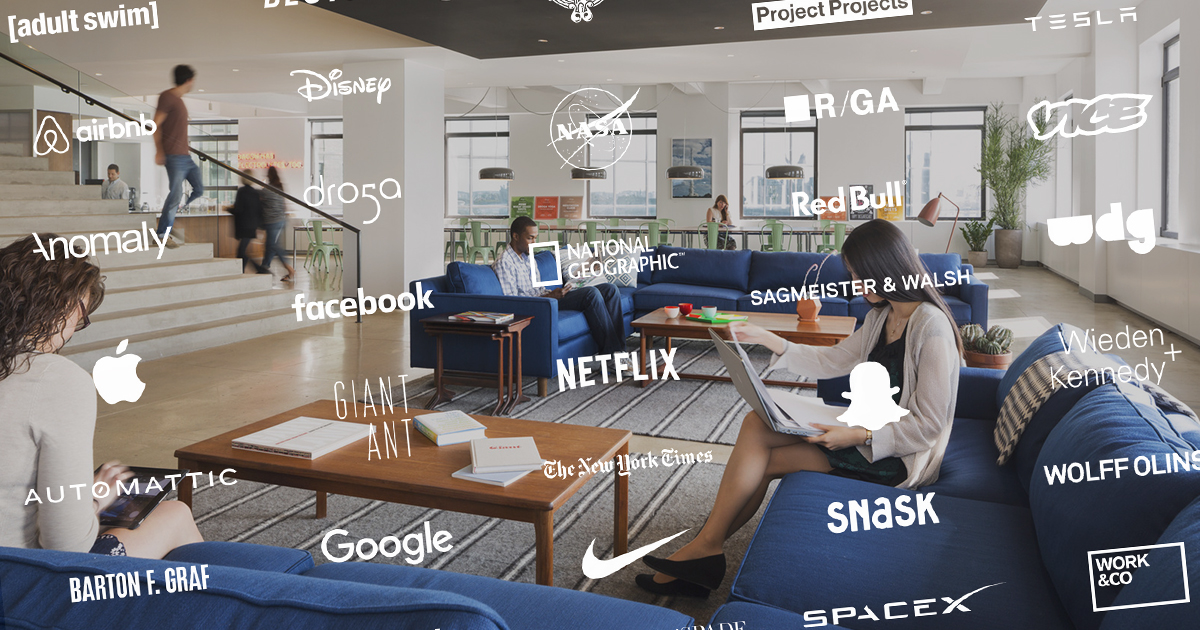 50 lieux où il fait bon vivre

quand on est créatif.
La plateforme Working Not Working, intermédiaire entre les créatifs du monde entier et les agences de communication ou les annonceurs, a mené une étude auprès de sa communauté créative, pour savoir quelles entreprises les attiraient le plus. Découvrez ci-dessous leur TOP 50 !
2×4, 72 and Sunny, adam&eve DDB, Adult Swim, Airbnb, Anomaly, Apple, Automattic, Barton F. Graf, BBDO, Blizzard Entertainment, Buck, Bureau Mirko Borsche, Deutsch, Disney, Droga5, Facebook, Giant Ant, Google, Google Creative Lab, Headspace, IDEO, Instrument, Mother, NASA, National Geographic, Netflix, New York Times, Nike, Partners & Spade, Patagonia, Penguin Publishing, Pentagram, Pixar, Project Projects, R/GA, Red Bull, Sagmeister & Walsh, Snapchat, Snask, SpaceX, Spotify, Stinkdigital, Stranger & Stranger, Tesla, VICE, Watson Design Group, Wieden + Kennedy, Wolff Olins, Work & Co.
« top companies creatives would kill to work for. »
10 agences sortent du lot
Dans cette liste, parmi ces grandes marques historique, jeunes entreprises technologiques ou studios design branchés, on retrouve néanmoins 10 agences de publicité, largement récompensées dans de nombreux festivals ces dernières années pour leur créativité : 72 and Sunny, adam&eve DDB, Anomaly, Barton F. Graf, BBDO, Deutsch, Droga5, Mother, R/GA et Wieden+Kennedy.
Pourquoi quitter son confort de freelance
Les centaines de réponses obtenues de la part de tous les créatifs ont permis de faire émerger les 3 critères principaux qui les feraient quitter leur vie de freelance, pour un job à plein temps en entreprise :
• Les opportunités créatives dans l'entreprise concernée.
• L'équipe directe avec laquelle ils seraient amenés à collaborer.
• La mission principale que l'entreprise s'est fixée, sa raison d'être.
Freelance, un statut plein d'avenir
Aux USA (comme en France), le nombre de freelances est en constante augmentation depuis de nombreuses années. Cette communauté y représente aujourd'hui +35% de l'ensemble des travailleurs dans le pays, soit 55 millions de personnes et 1 billion $ de salaires au total. Plus de chiffres clés dans l'infographie ci-dessous.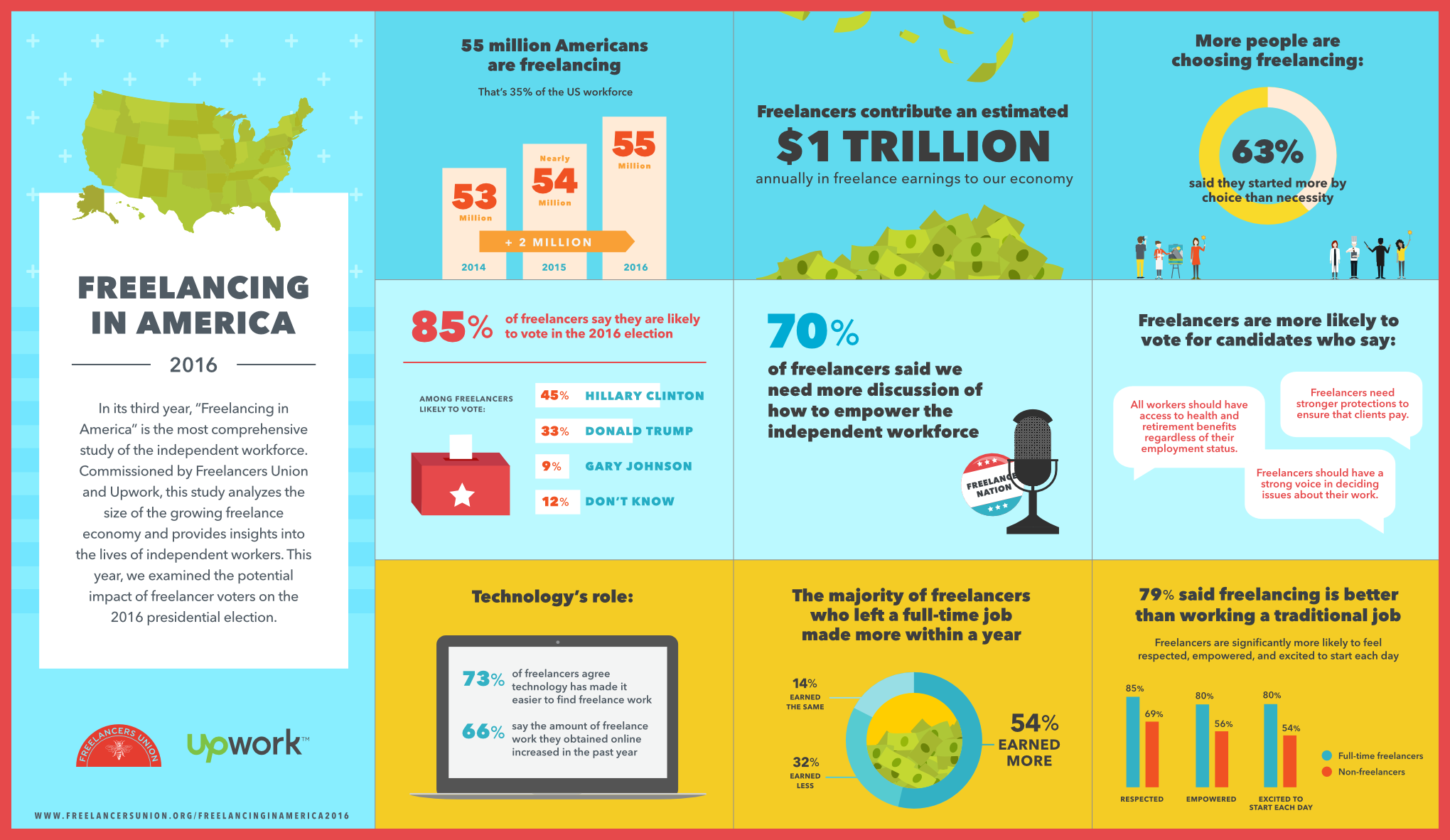 • Les créatifs freelances français en 40 chiffres clés
• Le 1er site web d'offres d'emploi dans la publicité : unjobdanslapub.fr