Les parfums Jean-Paul Gaultier croisent Le Mâle et Classique dans une nouveau mini film exceptionnel :

« On the Docks ».
Unis pour la 1ère fois il y a 15 ans dans une publicité mythique, Classique (la femme) et Le Mâle (l'homme) incarnent les amants terribles de la parfumerie JPG. Au rythme de l'incontournable musique « Casta Diva » (Norma de Bellini), ils s'aiment, se désirent, se quittent et se retrouvent dans de nombreux épisodes.
Héros d'une saga publicitaire devenue culte, la belle et son marin ont joué tous les registres : double jeu, transgressions, passion, séparations. « On The Docks » (qui sera appelé « Sur les Quais » en France), nouvel opus de la saga, met en scène leur désir mutuel porté à son apogée, sous un angle inédit : celui de l'épopée.
La nouvelle publicité Jean-Paul Gaultier avec ses 2 égéries historiques :
Et découvrez ci-dessous en exclusivité sur LLLLITL le trailer officiel de ce nouvel épisode :
Une dualité historique
Au coeur de la saga publicitaire Jean-Paul Gaultier, ces 2 personnages ont toujours été terriblement opposés mais incroyablement proches. Des entrailles du cargo à l'appartement-boudoir, les séquences haletantes de ce nouveau film ne dérogent pas à la règle. Ces deux-là sont faits l'un pour l'autre : 2 corps qui se répondent, 2 aimants qui s'attirent, 2 pièces d'un puzzle qui s'imbriquent.
La femme Classique est sensuelle à l'extrême, délibérément sexuelle dans ses provocations. Tandis que l'homme Le Mâle est sexy à se damner, il arbore une belle carrure et un corps de rêve, il est LE marin, celui qui attise les fantasmes les plus fous, suscitant « un imaginaire sulfureux »…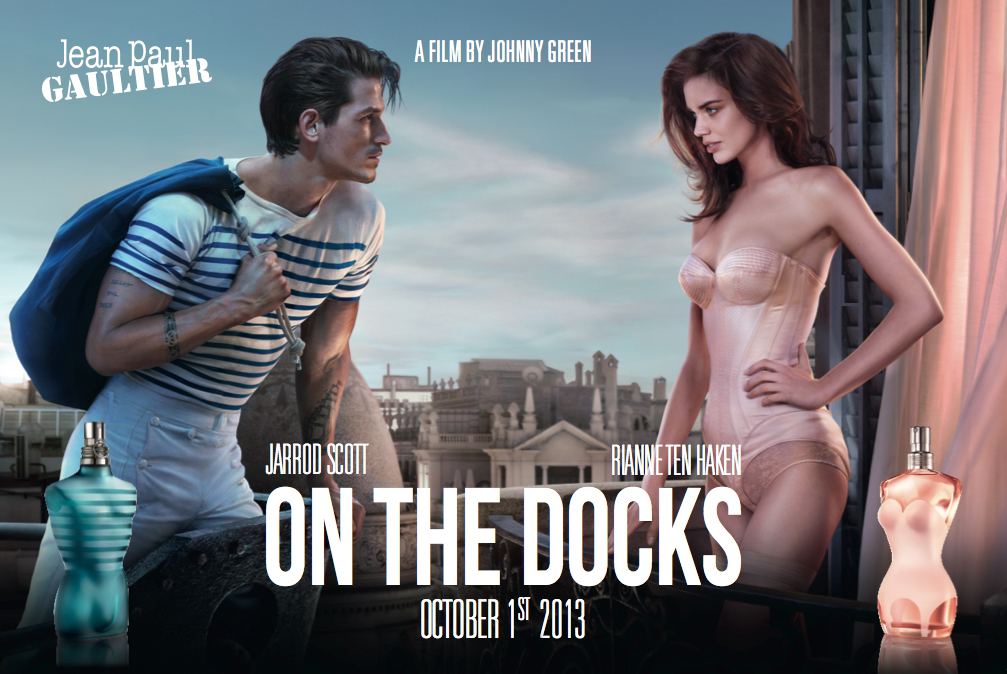 L'affiche officielle du nouveau film publicitaire « On The Docks » de Jean-Paul Gaultier.
Agence : Ogilvy Paris.