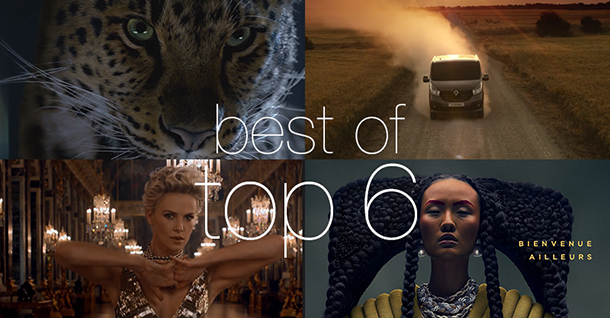 Chaque semaine, llllitl.fr vous propose une sélection des meilleures publicités et opérations marketing, créées dans la semaine écoulée par des agences françaises. Du 1er au 07 septembre 2014.
Lundi 
6.  • La nouvelle publicité du bijoutier Cartier, qui prolonge sa saga publicitaire avec sa célèbre panthère, pour une nouvelle collection dédiée à cet animal fétiche, une création de Publicis 133. « Panthère de Cartier. »
Mardi 
5.  • Les 7 nouveaux prints du chausseur Kickers, qui revient sur le devant de la scène avec ses 2 couleurs mythiques, le rouge et le vert, ils sont signés par La Chose. « Out of the frame. » Cliquez pour agrandir.
Mercredi
4.  • Le nouveau film digital de Renault, qui parodie le générique de la série K2000, pour faire la promotion de son utilitaire Renault Trafic, avec l'agence We Are Social. « #TraficRider. »
Jeudi
3.  Coup de coeur de la semaine  • La nouvelle publicité de Dior, pour son parfum « J'adore », avec sa fidèle égérie et actrice Charlize Theron, sur le tube « Hey Now » de London Grammar, remixé par le duo de DJs The Shoes, un très beau film réalisé par Jean-Baptiste Mondino. « The future is gold. »
2.  • Les 4 nouveaux prints du bijoutier Satellite, qui s'offre ici sa 1ère prise de parole en communication, avec ces magnifiques photos, mises en place par Young & Rubicam. « Bienvenue ailleurs. » Cliquez pour agrandir.
Vendredi
1.  • Le nouveau film TV de Citroën, qui communique avec humour sur la faible consommation de ses véhicules récents, sur une idée de l'agence du Groupe Havas, Les Gaulois. « Arrêtez-vous moins souvent à la pompe. »