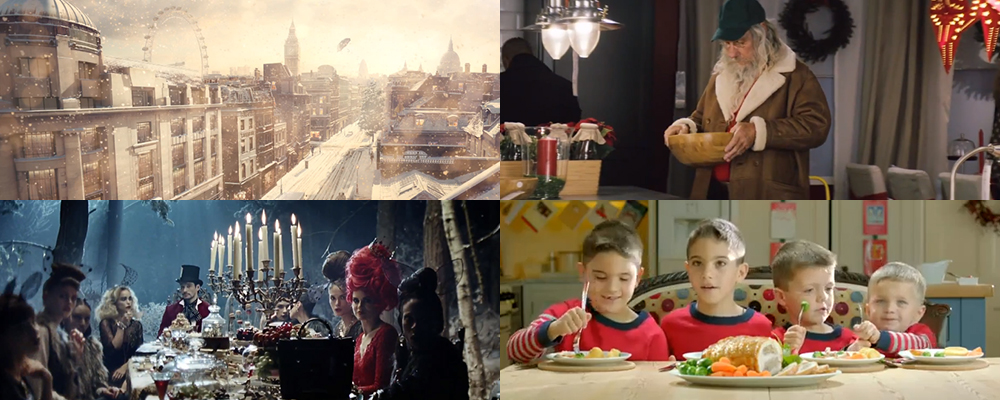 Découvrez toutes les publicités créées dans le monde entier à l'occasion d'une période féérique : 

Noël 2013.
Plus importante période commerciale de l'année dans de nombreux pays, chaque année les marques rivalisent de créativité et d'investissements pour séduire… Et générer des ventes. Voici donc à l'approche de Noël 2013, un article le plus exhaustif possible, répertoriant toutes les publicités de Noël : les plus créatives, les plus originales, les plus craquantes… Ou bien encore les plus WTF !
72 publicités de grandes marques pour Noël 2013
Au menu pour le moment, les créations publicitaires des marques : Aldi, Apple, Baileys, Barnados Australia, BMW, Boots, Burberry, Cadbury, California Lottery, Canal+, CanalSat, Carling, Cartier, Chanel, Coca-Cola, Décathlon, Dior, Duracell, E. Leclerc, FedEx, Ferrero Rocher, Friskies, Google, Greenpeace, Guerlain, Harley Davidson, Harvey Nichols, IKEA, ITV, John Lewis, KFC, Kindle, Kmart, Kohl's, Le Bon Marché, LEGO, Lidl, Little Tikes, Louis Vuitton, Marks & Spencer, Meijer, Morrisons, la NBA, Netflix, Nivea, Orange, Oreo, PETA, Pixmania, Roku, Sainsbury's, Samsung, SFR, Shelter, Snapdragon, Target, Tesco, Thorntons, TK Maxx, UNICEF, Waitrose, Wells Fargo, WestJet.
Aldi – A lot to like this Christmas (Agence : McCann UK)
Apple – Family Holiday (Agence : TBWA\ Media Arts Lab)
Baileys – The Nutcracker (Agence : BBH London)
Barnados Australia – Christmas Appeal (Agence : DDB Sidney)
BMW – Cold Outside
Boots – Let's feel good (Agence : Mother UK)
Burberry – With love
Cadbury – Unwrap Joy (Agence : Fallon London)
California Lottery – Holiday Scratchers (Agence : David & Goliath)
Canal+ – Bethléem (Agence : BETC)
Canal Sat – On l'emballe (Agence : BETC)
Carling – Pint Harp (Agence : Creature)
Cartier – Winter Tale (Agence : Publicis 133)
Chanel – Holiday Wishes 2014
Coca-Cola – Santa's Letter
Coca-Cola – Vivez la Magie de Noël
Décathlon – Cadeaux à Petits Prix (Agence : BETC)
Dior – Golden Christmas
Duracell – Christmas Tribute (Agence : Grey)
FedEx – Name Tag / Cozies (Agence : BBDO New York)
Ferrero Rocher – Infini (Agence : Havas WW Paris)
Friskies – Hard to Be a Cat at Christmas
Google – Far from Home
Google – A Little Help (Agence : Anomaly)
Greenpeace – Urgent Message from Santa
Guerlain – Xmas in Paris
Harley Davidson – Biker Claus
Harley Davidson – Sound of Festive Season (Agence : Big Com. UK)
Harvey Nichols – Sorry, I Spent it on Myself (Agence : DDB London)
IKEA – Undercover (Agence : Åkestam Holst)
ITV – Where Drama Lives this Christmas (Agence : ITV Creative)
John Lewis – The Bear and the Hare
KFC – The Taste that Unites
Kindle – Kelly Clarkson Wrapped in Red
Kohl's – Holiday Surprise
Kmart – Show your Joe
Le Bon Marché – C'est Noël
Encore plus de publicités en page 2 !