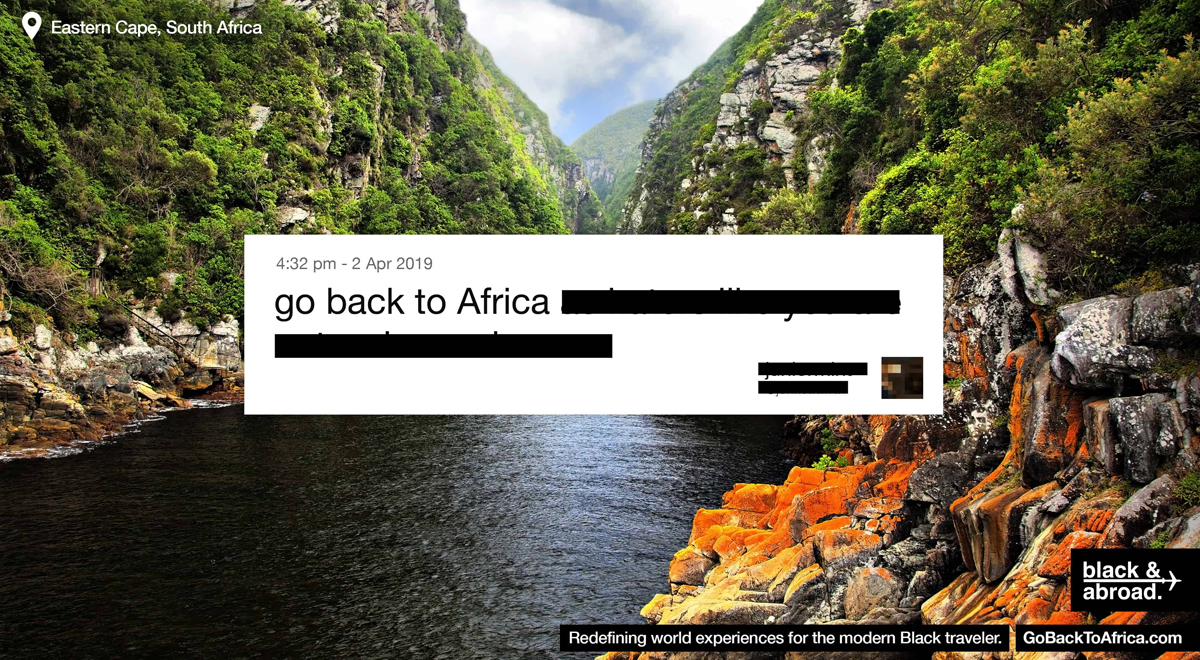 La data façon

aïkido.
Partenaire du « Grand Prix Data & Créativité 2019 », LLLLITL vous propose de revenir chaque mois sur 1 campagne publicitaire dont l'utilisation de la data a été, vous l'aurez deviné, particulièrement créative. Des réalisations qui auraient toutes leur place dans la 3ème édition de ce Grand Prix qui entend bien réconcilier spontanéité et rationalité, créativité et performance.
Pour ce 1er numéro, focus sur LA campagne planétaire de référence dans cette discipline cette année : un des Grands Prix des Cannes Lions 2019, celui de la catégorie « Creative Data ». Il s'agit d'une géniale opération de promotion pour Black & Abroad, spécialiste des voyages et du lifestyle des voyageurs noirs, « the modern Black travelers ».
Afin de vanter toutes les richesses du continent africain auprès de cette cible, l'agence FCB Six s'est attaquée à l'une de ses plus grandes sources de mal-être dans leur quotidien à l'étranger : le racisme et la discrimination. En capitalisant sur la phrase malheureusement trop répandue, « Go Back To Africa ». Une approche inédite qui, à l'image d'un art martial, a renversé une data négative en data positive :
« We are guided by 3 principles that represent the heart of our mission: Explore, Embrace, Empower. »
Sur Twitter, Black & Abroad a subtilement transformé cette data publique, ces tweets négatifs et agressifs, en somptueuses publicités pour les 54 pays africains, sponsorisées auprès des personnes touchées par ces attaques. Et ce tout en amplifiant le mouvement grâce à de nombreux influenceurs africains propageant une image grandiose de ces contrées sur les réseaux sociaux, dont essentiellement Instagram, au travers de diverses thématiques, dans le but de contredire toujours plus cette phrase choc et jusqu'ici vide de sens.
« We displace the hate and repurpose « Go Back To Africa » into something positive. »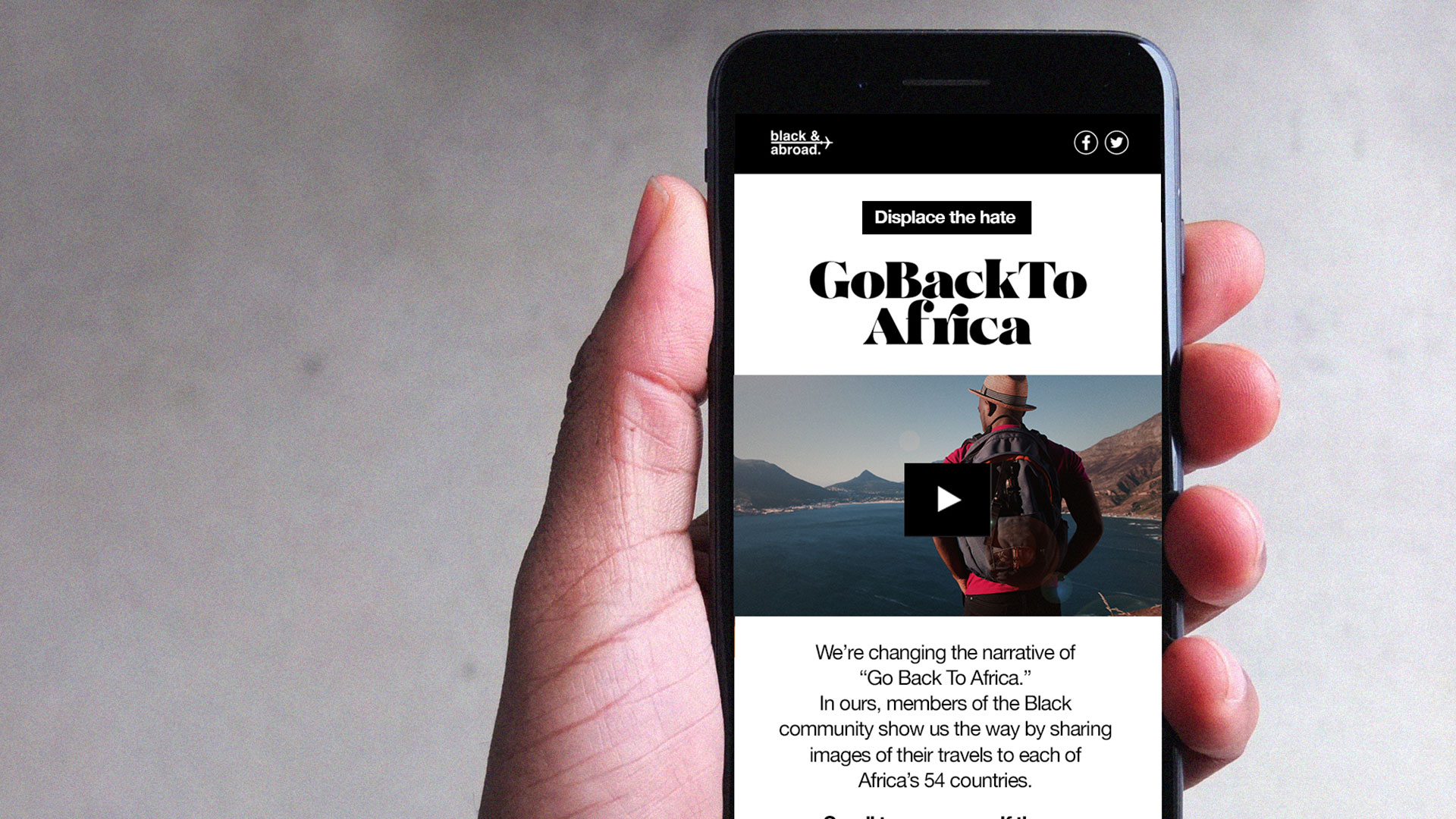 Plutôt que de faire une campagne classique et digne d'un office du tourisme, Black & Abroad s'est appuyé sur une tension sociétale et très digitale, pour émerger auprès de sa cible et la convaincre. Une formidable démonstration, marketing et technologique, qu'une fois de plus l'amour peut être une des meilleures réponses à la haine.
Plus d'infos sur le Grand Prix Data et Créativité 2019 : dataetcreativite.fr
Autres articles 100% data et créativité :
• Volkswagen fait de chaque trajet un conte pour enfants 
• 13ème Rue : la 1ère série à découvrir sous terre
• Budweiser détourne la data de la police pour Halloween
• Data marketing : la créativité contre-attaque…
•  Only 500 : l'opération sociale et radicale de Renault Sport
CRÉDITS. Annonceur : Black & Abroad. Co-Founders: Eric Martin, Kent Johnson. Agence: FCB/SIX. Executive Creative Director: Ian Mackenzie. Associate Creative Director: Fred Nduna. Associate Creative Director: Andrew Bernardi. Copywriter: Curtis Chapman. Designer: Ramon Charles. Account Director: Fraser Jackson. Integrated Producer: Gillian Morrison. Video Producer: Kristine Lippett. EVP, Strategy: Anna Percy-Dove. Director, Strategy: Paul Hanlon. Strategist: Simran Kaur. Senior Manager, Data Analytics: Andrew Yang. Data Analyst: Abdul Dau. VP, Head of Data and Technology: Jacob Ciesielski. Product & Technology Solutions: John Sime. Front-End Developer: Heung Lee. President: Andrea Cook. SVP, Director of Global Communications & PR: Melanie Mitchem. Post Production House: Rooster Post Production. Editor: Colin Murdock, Jeff Poremba. Assistant Editor: Shane Preston. Executive Producer: Yumi Suyama, Melissa Kahn. Media Agency: Initiative. Public Relations: Shannon Stephaniuk, Glossy. Music and Sound Design: Grayson Matthews. Music Producer: Mark Domitric. Engineer: Vlad Nikolic. Media Producer: Nicholas Shaw.