JUILLET 2012 – WEEK 30 (23/07/2012 > 29/07/2012)
Publicité / Marketing : les meilleures créations françaises de la semaine est un résumé hebdomadaire des évènements marquants de la semaine écoulée : les créations françaises qu'il ne fallait pas manquer, à travers les agences, les médias et les marques.
LUNDI
• Les 3 nouveaux spots de la BNP, pour promouvoir son « Quizz Cinéma » estival, des créations de Marcel.
MARDI
• Le nouveau print non officiel de Greenpeace, suite à une fonte sans précédent du Groenland, réalisé Michael Madou. « Ainsi fond, fond fond le petit Groenland. »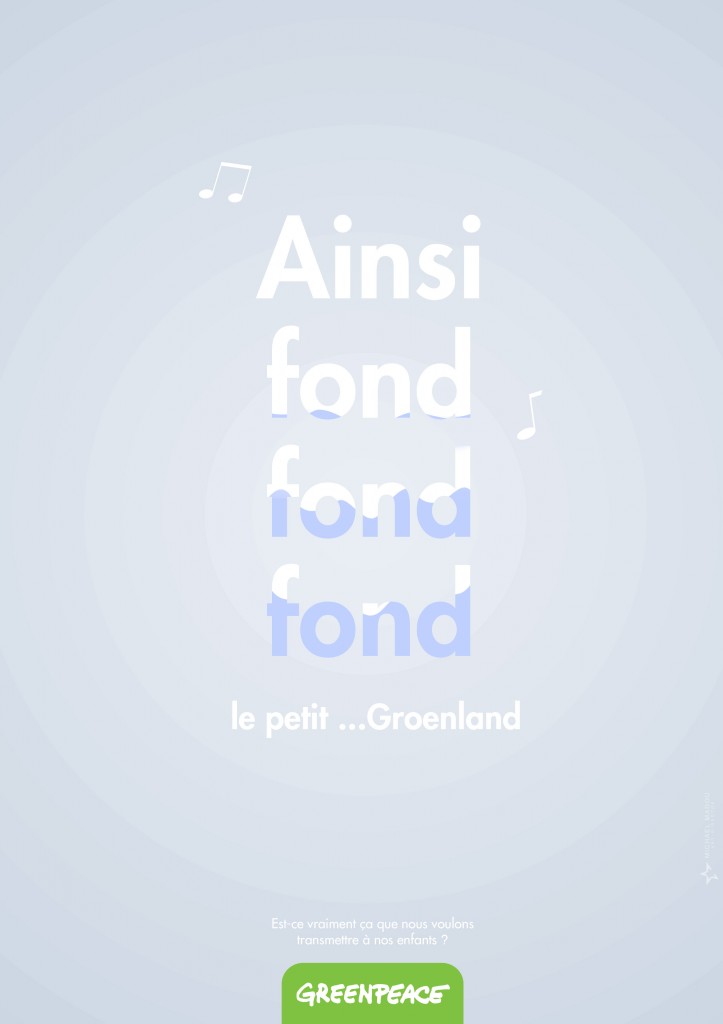 • Les 4 nouveaux prints de Câlin Câline, dans le but de faire connaître l'origine française, la qualité et la sécurité de ses produits pour bébés. « Made in France. Made in love. »
MERCREDI
Coup de coeur de la semaine : • La nouvelle opé digitale de Reporters Sans Frontières, en faveur de la libre circulation de l'information, avec le livetweet d'un homme témoin des évènements en Syrie. Une création de JWT Paris. « #DeadTweet L'enfer du quotidien des citoyens-journalistes »
Pour faire l'expérience c'est ici : www.deadtweet.rsf.org
• Le nouveau site web dédié de Michelin « Road Stories », avec un web-documentaire co-produit par TBWA\ Paris, TBWA\ 365 et Textuel La Mine. « True stories of people with a driving passion. »
A voir sur www.road-stories.michelin.co.uk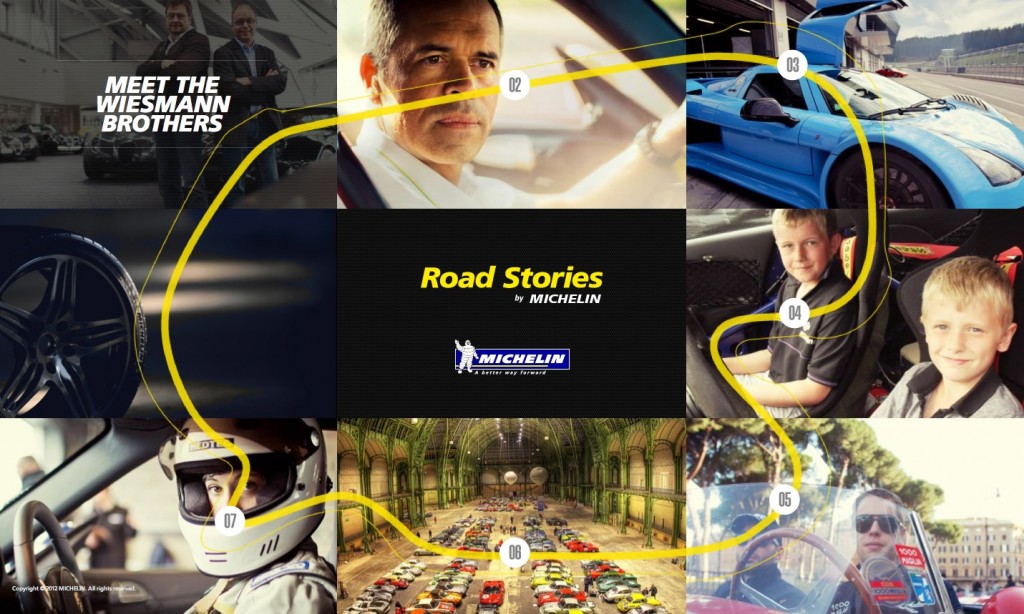 JEUDI
• Le nouveau print provocateur de Poulets de Loué,  une création qui a fait du bruit notamment avec cet emplacement devant un commissariat de Clermont Ferrand. « Depuis 1958, un bon poulet est un poulet libre. »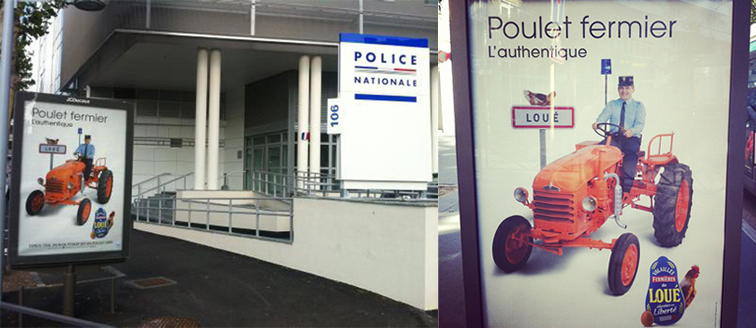 • Le nouveau print de G-Shock pour sa gamme Premium, avec Olivier Nusse (managing director de Mercury France), une création de No Site. Voir le print de la semaine dernière avec Cyril Paglino (Wizee).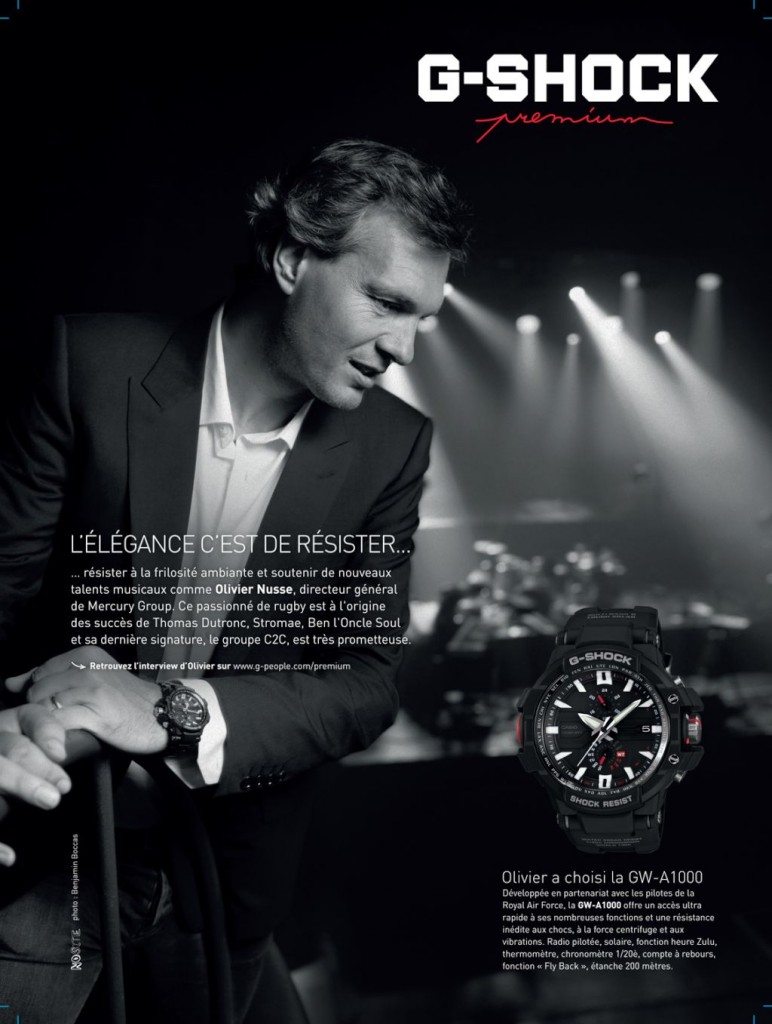 VENDREDI
• Le nouveau spot viral de Vitaminwater, boisson qui soutient les sportifs, réalisé par Sid Lee et promu par l'agence Elan. « Vitaminwater aime les athlètes. Tous tous tous tous. »
• Autre coup de coeur de la semaine : Le nouveau spot de Canal+, qui reprend un célèbre geste de célébration des footballeurs, pour promouvoir sa large offre en matière de football la saison prochaine. Une création de BETC Euro RSCG. « Le meilleur du foot se vit sur Canal+ »
Vous pensez qu'il manque une création marquante ?
Ajoutez-la dans les commentaires ou via un tweet vers @LLLLITL !