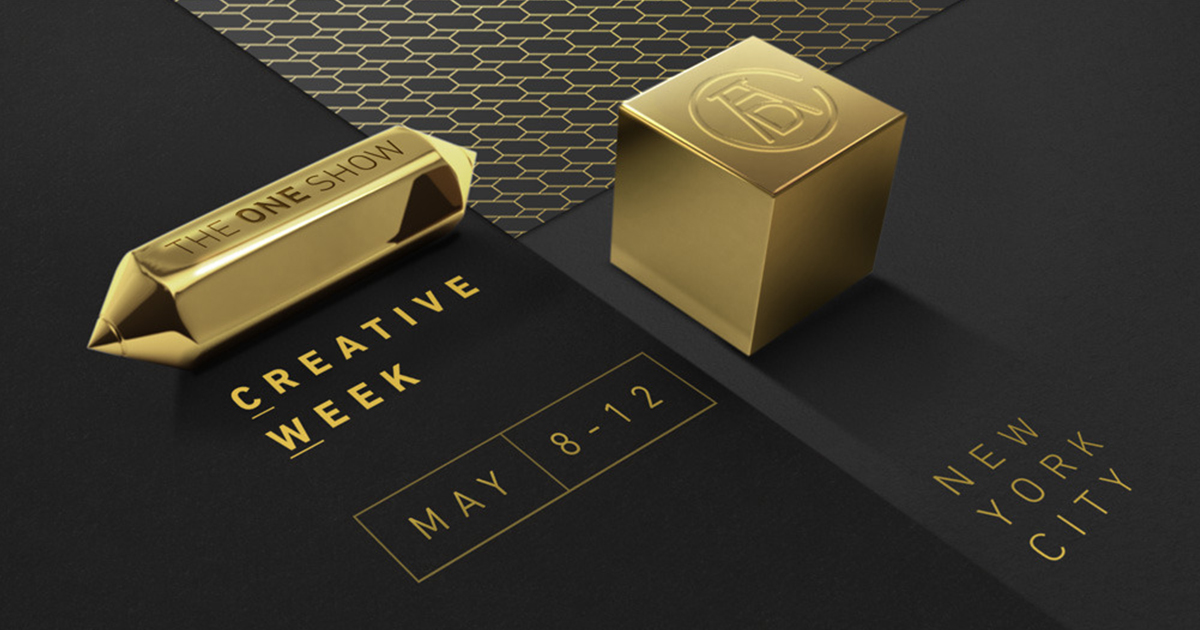 La crème de la crème 

des crayons américains.
LLLLITL est à New York cette semaine pour vous faire vivre les One Show 2017, notamment jour après jour sur Twitter. Le festival publicitaire récompensant les campagnes les plus créatives de l'année a attribué cette année aux agences françaises un total de 17 Prix et 39 « Merits » (l'équivalent de « mieux qu'une simple Shortlist, mais ça ne mérite pas un Prix pour autant »).
Au global, il n'y a eu que 243 Pencils remis (70 Gold, 75 Silver et 98 Bronze) pour 23 pays, sur un total de 21.844 inscriptions provenant de 73 pays. Ce ratio impressionnant démontre le prestige et la valeur de ce festival. À voir également  dans le cadre de la Creative Week : le palmarès des Art Directors Club 2017 dévoilé ce lundi, ainsi que les 56 Shortlists françaises du One Show.
Les créations françaises récompensées
Avec 6 Prix et 10 Merits pour 7 campagnes différentes, l'agence BETC Paris est la grande gagnante française de l'année. À noter que derrière, seulement 8 autres agences françaises ont obtenu des Prix cette année au One Show : Buzzman, DDB Paris, DigitasLBi, Fred & Farid, Marcel, McCANN Paris, Saatchi & Saatchi Paris et Sid Lee Paris.
AGENCE
PRIX
ANNONCEUR
CAMPAGNE
CATÉGORIE
BETC Paris

1 Gold,

1 Silver,

 2 Bronze,

 3 Merit
Addict Aide
Like My Addiction
Non-Profit
BETC Paris
2 Merit
Air France
Cinema To Go
Travel
BETC Paris
1 Merit
Air France
French Food Delivery
Travel
BETC Paris
1 Merit
CANAL+
Kitchen
Media
BETC Paris
1 Merit
CANAL+
Aimen
Media
BETC Paris
1 Merit
Orangina
Upside Down Can
Beverages
BETC Paris

1 Gold,

 

1 Bronze,

 1 Merit
Ubisoft
End Of Society
Games
Buzzman
1 Merit
Burger King
#WhoIsTheKing
Restaurants
Buzzman
2 Silver
Ubisoft
Nosulus Rift
Entertainment
Cheil
1 Merit
Samsung
Life Changer
Technology
DDB Paris
1 Merit
Médecins du Monde
Beauty of the World
Non-Profit
DDB Paris
1 Silver
Ubisoft
Scars
Games
DDB Paris

1 Bronze

Ubisoft
The Thin Red Path
Games
DigitasLBi

1 Bronze

Ruinart
Anamorphose
Beverages
Fred & Farid
1 Merit
Société Générale
Supporters
Financial
Fred & Farid

1 Bronze,

 3 Merit
NY Ethical Society
No More Black Target
Non-Profit
Fred & Farid
1 Merit
HP
True Memories
Tech
La Chose
1 Merit
Sécurité Routière
Shockwaves
CSR
Les Gaulois
1 Merit
Amgen
Porcelain Bones
Health
Les Gaulois
1 Merit
Transavia
Holidays On Demand
Travel
Marcel

1 Bronze,

 2 Merit
Intermarché
Sugar Detox
Retail
McCANN Paris
1 Gold, 1 Merit
Mvt. du Nid
Girls of Paradise
Non-Profit
Nurun Paris
2 Merit
Delamaison
Apartment Stores
Consumer Goods
Ogilvy Paris
2 Merit
Netflix
Unbreakable
Entertainment
Publicis Conseil
1 Merit
SNSM
The Mermaid
Non-Profit
Rosapark
2 Merit
Fruits & Wine
Picnic Blanket
Beverages
Saatchi
2 Silver, 2 Merit
Home Away
Eiffel Tower All Yours
Travel
Sid Lee Paris
1 Silver, 3 Merit
Ubisoft
Predictive World
Entertainment
TBWA\ Paris
2 Merit
Burns & Smiles
Halloween
Non-Profit
TBWA\ Paris
1 Merit
McDonald's
Originals
Restaurants
Les 18 catégories du One Show 2017 : Branded Entertainment, Cross-Platform, Cultural Driver, Design, Direct, Film, Moving Image Craft, Intellectual Property, Interactive,  Mobile, Penta, Print & Outdoor, Public Relations, Radio, Responsive Environments, Social Influencer Marketing, Social Media, UX/UI.
Proud partner of the 2017 One Show! 🙌 #OSawards pic.twitter.com/sFVGmkPRU9

— Matthieu ETIENNE (@LLLLITL) May 11, 2017
Les Prix spéciaux du One Show 2017
• Agence de l'Année : McCANN New York (suivie par Dentsu Tokyo, Leo Burnett Chicago, Ogilvy New York, BBDO New York). • Agence Indépendante de l'Année : Droga5. • Réseau Publicitaire de l'Année : Ogilvy & Mather (suivi par BBDO, McCANN, Leo Burnett et TBWA\). • Groupe Publicitaire de l'Année : Omnicom (suivi par WPP, Interpublic, Publicis Groupe, Dentsu). • Annonceur de l'Année : Lockheed Martin (suivi par Nike, Amnesty International, Google et la Swedish Tourist Association). • Penta Pencil (qui récompense les meilleurs duos agence – annonceur) : Wieden + Kennedy avec Nike, ainsi que TBWA\ Media Arts Lab avec Apple. • Pays les plus récompensés : USA, Australie, Royaume-Uni, Japon, Allemagne, Brésil, Canada, France, Suède et Afrique du Sud.
À l'année prochaine !
Voir les 56 shortlists françaises Voir le palmarès des ADC 2017