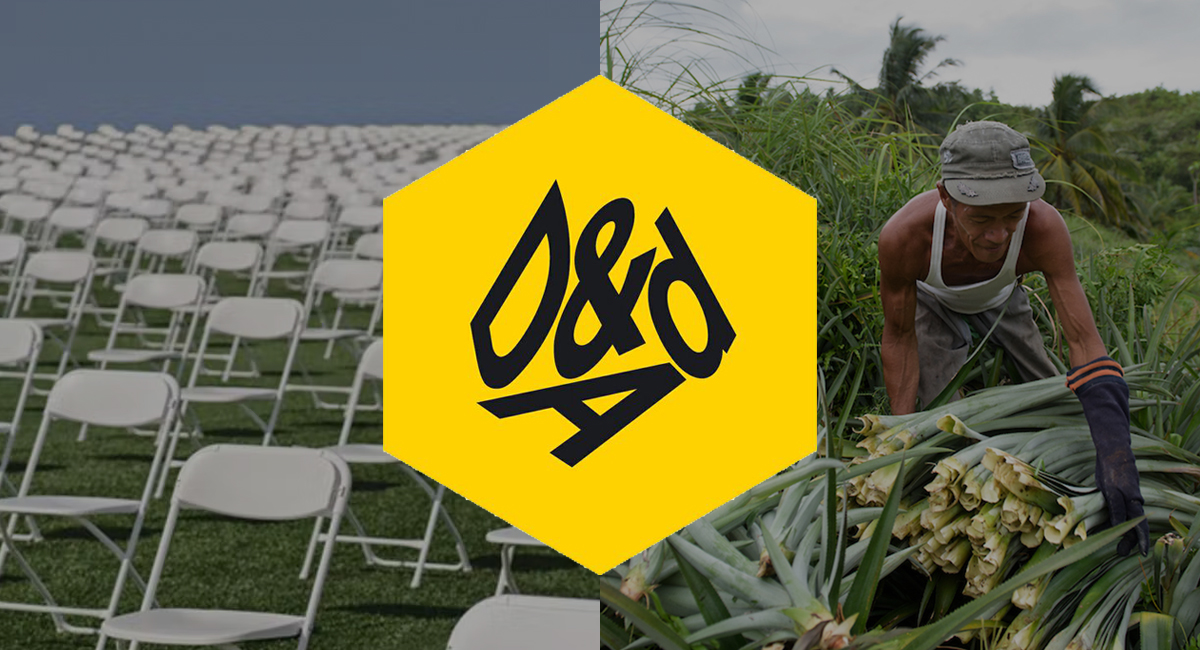 The most

coveted

pencils.
Historical and prestigious English festival, the D&AD (aka « Design & Art Direction » awards) is one of the most demanding festivals: each year, in comparison with other festivals, they distribute very few « Pencils », which makes all their value. They indeed have a particular importance for advertisers around the world, the festival also presents them as follows: « For those who achieve one, it is career defining. » Find below the 6 campaigns that truly caught the eyes of the juries this year.
The 60th D&AD festival awarded only a couple of Grand Prix: 5 Black Pencils, and 2 White Pencils. As well as 78 Gold (Yellow Pencils), 188 Silver (Graphite Pencils) and 421 Bronze (Wooden Pencils).
TOP 5 Most Awarded Advertising Agencies at the D&AD 2022 
Leo Burnett Chicago, 111 points.
Droga5 New York, 94 points.
Ogilvy UK, 81 points.
Area 23, 70 points.
McCANN Health, 68 points.
Black Pencil 2022, in the Branding category 

Black Pencil 2022, in the Direct category 
Change The Ref – « The Lost Class » 
Advertising agency: Leo Burnett Chicago. Production company: Hungry Man. This campaign also received 1 Gold in Spatial Design, 1 Gold and 1 Bronze in Integrated, 1 Gold and 1 Bronze in PR, 1  Gold and 2 Silver in Film, 1 Silver in Direction, 1 Bronze in Impact. « The National Rifle Association (NRA) spends $250 million annually to advocate for pro-gun legislation. How do you fight for common sense gun laws while facing such a powerful Goliath? You use their power against them. We held a graduation ceremony for The Lost Class, the 3,044 students who would have graduated this year if they hadn't been killed by a gun. We then had two well-known gun advocates give the commencement address to the 3,044 empty chairs representing these lost students, ultimately turning pro-gun advocates into anti-gun spokespeople. »
Black Pencil 2022, in the Creative Transformation category 
Frontline19 – « Hopeline19 »
Advertising Agency: adam&eve DDB London. Production Company: Academy Films. Design Agency: King Henry. This campaign also received 1 Silver in Casting, 1 Silver in Integrated, 1 Bronze in Experiential, 1 Bronze in Sound Design & Use of Music. « While some of us dare to imagine a world after Covid19, three million NHS and frontline workers carry it with them every day. 2 in 5 of them are suffering with PTSD – double the rate found in military veterans with recent combat experience. One crisis has caused another. On Emergency Services Day in September 2021, we launched Hopeline19 – a free phone service for the nation to leave messages for frontline workers. Anyone who needs it can call the line 24/7 to hear a randomised series of messages of support from the British public. »
Black Pencil 2022, in the Media category 
Samsung – « iTest »
Advertising Agency: DDB New Zealand, Tribal Worldwide New Zealand. This campaign also received 1 Gold in Experiential, 1 Silver in Media and 1 Bronze in Digital. « Samsung has infiltrated iPhones with a Galaxy handset emulator. Samsung created a web app that turns Apple's iPhones into Galaxy handsets, achieving 10 million global downloads. The « iTest » program works from the Apple user's internet browser and can be downloaded as a web app to their home screen, bypassing Apple's App Store. Allowing all iPhone owners to experience its Galaxy interface and its myriad of features, from their Apple handset. Samsung used text messages to guide iPhone users through its features and tools, prompting them to receive calls, change the phone's background theme, play games and take photos. New Zealand travel influencer Logan Dodds even makes an appearance by showing the user how to operate the camera. »
Black Pencil 2022, in the Product Design category 
Google – Real Tone 
Advertising Agency: Google Brand Studio. This campaign also received 1 Bronze in Impact. « Historically, camera technology hasn't accurately represented darker skin tones. We partnered with a diverse group of image experts, like photographers, cinematographers, and colorists celebrated for their beautiful and accurate imagery of people of color. The result is Real Tone, a collection of technical improvements to the Pixel 6 camera and Google Photos that more accurately and beautifully highlight the nuances of all skin tones. The campaign spread across social channels, editorial partnerships, a Super Bowl spot, and in a collaboration with New York Times Advertising. »  
White Pencil 2022, in the Impact category  
Maxx Flash – « The Killer Pack » 
Advertising Agency: VMLY&R Mumbai. Production Company: Monkey On Hot Bricks. This campaign also received 1 Bronze in the Direct category, and 1 Bronze in the Packaging Design category. « Life threatening diseases like Dengue and Malaria were on all time high despite not being the rainy season. Authorities pointed at garbage collection points which were acting as breeding grounds. Indians use mosquito repellent coils to fight mosquitoes inside the home but the real problem was outside. So Maxx Flash, a mosquito repellent brand introduced The Killer Pack. A 100% bio-degradable, innovative packaging lined with 5% Active Probiotic Bacillus thuringiensis kills mosquito larvae when disposed in garbage dumps, dustbins and stagnant water. This helped break the vicious cycle. »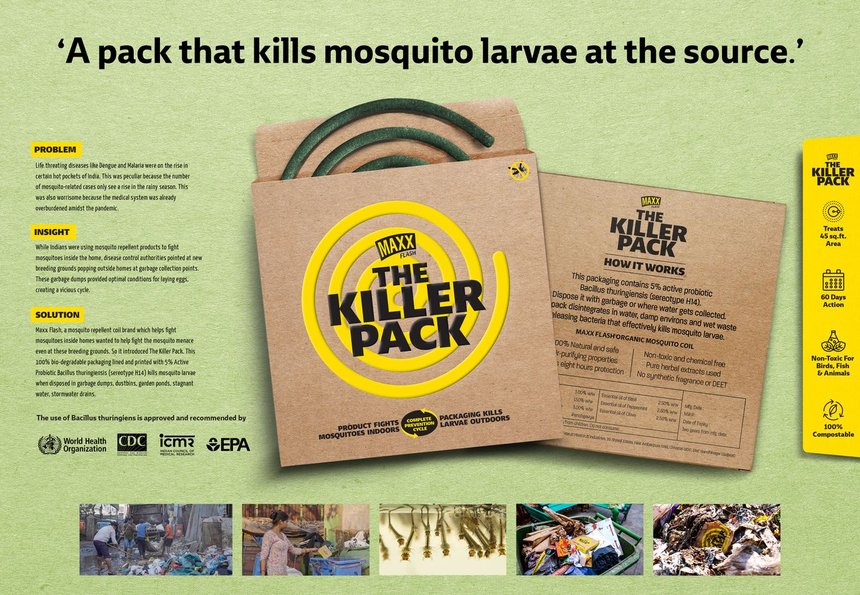 White Pencil 2022, in the Impact category  
Dole Sunshine Company + Ananas Anam – « Piñatex »
Advertising Agency: L&C [Lanfranco & Cordova] New York. Production Company: Suitcase Productions. « Every year over 2.5 million tons of pineapple are grown in the Philippines. While the fruit is packaged to feed people all over the world, pineapple leaves are left behind. For every ton of pineapples harvested, 3 tons of leaves are wasted. And when left to rot could create methane emissions over 20 times more harmful than CO2. To make a change. Dole, one of the largest producers of pineapples in the world, partnered with Ananas Anam to produce Piñatex® A vegan, cruelty-free and sustainable leather alternative; made from the fiber of pineapple leaves that would otherwise go to waste. »
The latest news from the major advertising festivals: AWARDS 2022