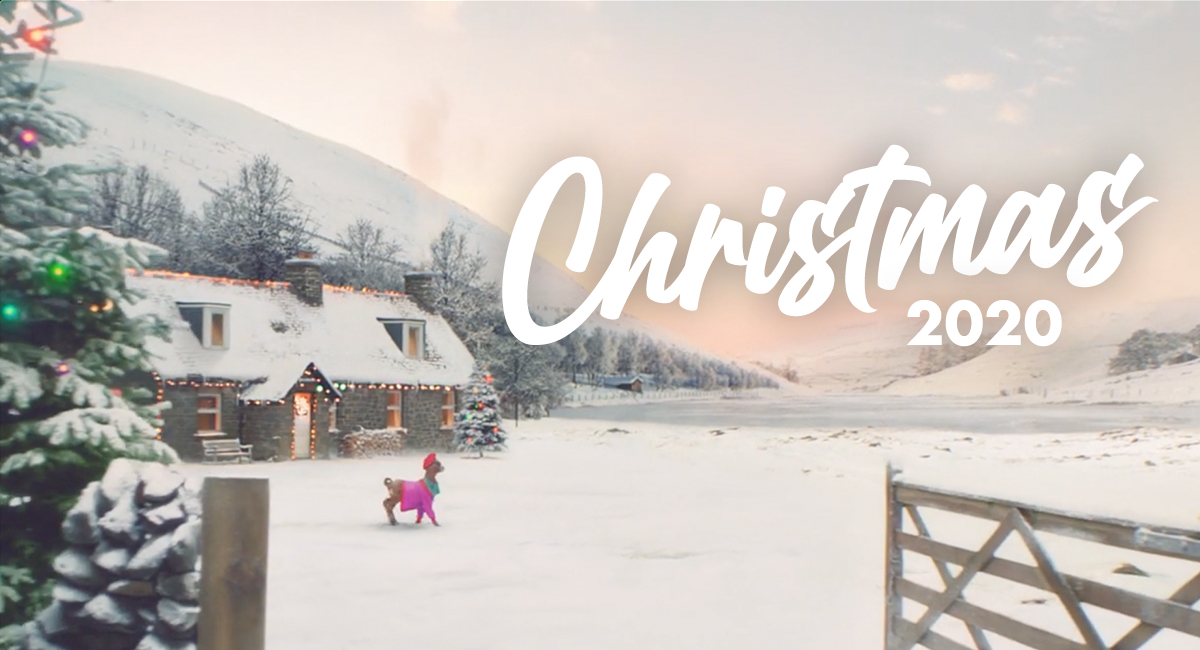 A special year for

Christmas ads.
As 2020 has been a difficult year for everyone around the world, there are also some challenges for marketers regarding their 2020 Christmas ads: these commercials bringing every year a lot of emotions to us, from laughter to tears. This 2020 festive season is indeed like no other. As you will see below in this subjective shortlist of the « most creative adverts » according to me, some brands have decided to completely avoid referring to the pandemic, some made clever nods to it (without dwelling on it too much), while some are turning this unique context into a positive and hopeful storytelling. 
Have a look at the 25 best commercials of Christmas 2020 below: Aldi, Amazon, Apple, Audi, Burberry, Coca-Cola, Deliveroo, DFS, DICK'S, Disney, Facebook, Greenies, Gucci, IKEA, Intermarché, John Lewis, Kohl's, LEGO, Macy's, McDonald's, Miller Lite, Myer, SuperValu, Tesco, TK Maxx, Very… (+2 bonus ads at the end!) Then let me know in the comments which one is your favorite, and why! 
6 trends coming out of the 2020 Christmas ads 
Compared to previous years (we're sharing this shortlist every year since 2012), from the commercials which are already revealed we can clearly observe that in the 2020 Christmas commercials there is: 
More distanciation: less hugs, less kisses, less big family meals and big reunions.
More animations: because there have been less in real life shootings possibilities.
Less « blockbusters » ads: as brands' budgets are smaller, productions overall tend to be simpler, or at least their commercials look far less bling, far less glitzy.
Different expectations: according to a poll by Truman Films in the UK, this year the public will favour « real stories over big-budget » campaigns, which is coherent with brands' capabilities.
Bigger audiences: as people might spend more time online and in front of their TV this Holiday season vs previous ones (many countries are currently under lockdowns measures), they might scrutinise these campaigns, waiting for this yearly dose of entertainment.
More ads made in-house: this might not be directly related to the year we've been through, and might be more of a global trend within the industry, but compared to previous Christmas editions, this year we observe there are much more commercials which have been made by brands themselves, without any advertising agency.
Aldi – Peel the Need 
Kevin the Carrot is back! This year, Aldi's famous Holiday character flights with « Lieutenant Turkey », before he gets ejected from the cockpit… A nice Top Gun like teaser to the official commercial, which sees Kevin going back home just in time for Christmas Eve, thanks to a little help from Father Christmas himself, the « E.T.-style » way. Agency: McCANN London. 
Amazon – The Show Must Go On 
Among the first global brands to reveal their 2020 Christmas ad, Amazon shares a story of hope in the face of pandemic adversity. As we must learn to live with the virus, this commercial shows the challenges and despair we all know this year, with a bit of joy and optimism, starring the French ballet dancer Taïs Vinolo. Agency: Lucky Generals. 
Apple – The Magic of Mini 
Big joy can come in small packages! This is basically the key message Apple wants to share with us for Christmas 2020, trying to make us avoid the « Holiday blues » we could face especially this year, featuring 2 songs of the artist Tierra Whack. Agency: TBWA\Media Arts Lab. 
Audi – Architect / The Neighbors 
German automaker Audi offers a glimpse of « a socially-distant Holiday season » in a campaign made of 2 short films. As many consumers will spend this period at home, safely distant from friends and family, the 2 commercials uses humor in empathetic ways. Agency: unknown.
Burberry – Singin' in the Rain
Featuring four dancers dodging blocks of falling ice in the streets of London, Burberry's 2020 Christmas ad is a nod to the « Singin' in the Rain » song, with all the elegance and coolness we would expect from the British brand. Agency: Riff Raff Films. Directors: Megaforce. 
Coca-Cola – The Letter 
This year, the giant Coca-Cola took « self-distanciation » to an extreme point: North Pole. Whether physically, virtually, or in thought, the brand reminds us the greatest gift is to be there for our loved ones. A beautiful film for the 100th anniversary of its Christmas commercials (including a nod to its legendary truck), which will be broadcasted in 91 countries. Agency: Wieden+Kennedy London. Director: Taika Waititi. 
Deliveroo – Christmas Is On 
Deliveroo is highlighting the range of foods people can order for delivery through its service this season. The commercial features customers and delivery drivers recreating the tune « We Wish you a Merry Christmas » with different kind of sounds, a real sound craft and editing performance. Agency: made in-house. 
DFS – « A Comfy Carol » with Wallace & Gromit
Wallace & Gromit have a new invention for Christmas: the « Ewe-phonia » carol singing. In this brand new commercial for the British sofa retailer DFS, the 2 much-loved characters wish a merry (and comfy!) Christmas to everyone. Agency: Krow London. 
DICK'S Sporting Goods – Night at the Distribution Center 
Sport merchandise come alive and escape from their warehouse to deliver themselves right on time for Christmas Eve in DICK'S Sporting Goods's magical Holiday commercial. Aligned with the 2020 trend of home deliveries, gifts are beautifully animated to bring the jolly. Agency: Anomaly Los Angeles. 
Disney – From Our Family To Yours 
A heart-warming story, a song full of emotions… All the ingredients of a great Disney movie are gathered in this 3 minutes long commercial (the longest of the year so far), to celebrate a bond between grandmother and granddaughter, via its most famous character Mickey Mouse. Agency: made in-house.
Facebook Portal – Feel There 
This Christmas 2020 is (sadly) an incredible opportunity for Facebook to promote its « Portal » camera. In this modern Holiday campaign, the legendary footballer Ian Wright shows how this device can help families « come together », keeping family traditions alive despite the context. Agency: TBWA\ London. 
Greenies – Snowman 
For its first ever Christmas spot, the pet food brand Greenies shows what happens when a stick loving dog meets a snowman: the consequences can be terrible… But so funny! This is definitely one of the cutest ads of the season. Agency: Adam & Eve DDB London. 
Gucci – Gift 2020
An unusual Holiday ad, which longs for the good old days of office parties! Gucci's latest campaign is definitely festive, but a bit awkward. It takes place in a vintage office from the 90's, referring to a certain nostalgia of this decade, as well as IRL meetings with colleagues. Agency: made in-house.
Intermarché – Until My Last Breath 
The only 2020 Christmas commercial which thanks this year's real heroes. In a (very) long format commercial, the French retailer Intermarché pays tribute, as usual over a food story, to the healthcare workers who saved so many lives in the past months. Agency: Romance Paris. 
IKEA – The Christmas food waste 
Far from the COVID 19, the Swedish brand is addressing another issue. Indeed every Christmas and New Year, people around the world throw away tons of food, harming nature. For Christmas 2020, IKEA encourages us to behave responsibly via a spectacular film. Agency: Instinct BBDO Moscow. 
John Lewis – Give A Little Love 
« We believe that the world would be a better place if we all gave a little more love. » As many other brands, John Lewis And Partners celebrates « kindness » in its 2020 Holiday commercial, a simple but essential thing this year. The film blends many kinds of drawings to make the most beautiful commercial of the year (so far!), with an original song from Celeste. Agency: Adam & Eve DDB London. 
Kohl's – Give With All Your Heart 
« This year looks different, and so do our wish lists. » The American retailer Kohl's smartly highlights that this particular year we should wish for happiness, understanding and kindness, more than ever. A simple but powerful commercial. Agency: Yard New York. 
LEGO – Rebuild The World 
« What a wonderful world » might not be our first thought when looking back at this year we've been through, but still this is the song LEGO is betting on for its bold 2020 Christmas ad, celebrating children's unlimited power of imagination. Agency: made in-house.
Macy's – In Dad's Shoes 
For the American retailer Macy's, this year « the real gift is the thought you put into it ». In its lovely Holiday commercial, we follow the story of a daughter taking an unexpected journey in finding « the perfect gift » for her dad… Agency: BBDO New York. 
McDonald's – Inner Child 
In the UK, McDonald's released a very moving commercial, focusing on parents' quiet tension with teens almost ready to leave childhood behind. This is not specific to 2020, but we must confess the fast food captures this challenging time for both parts quite perfectly. Agency: Leo Burnett London. 
Miller Lite – Farewell, Work Holiday Parties 
At least one good thing about 2020 if you don't like your colleagues: there won't be any Holiday party this year. The beer Miller Lite caught the good news in its commercial, and do you know why are all these coworkers so odd? Because they all are meticulous sculptures, by the artist Alex Prager. Agency: DDB Chicago and DDB San Francisco. 
Myer – Bigger Than Christmas 
As we've all missed a lot this year, the Australian retailer Myer invites to catch-up it all on the occasion of Christmas day. Birthdays, Mother's Day, Father's Day, Easter, weddings… Everything is packed in a weird but beautiful song. Agency: Clemenger BBDO Melbourne. 
« The ads making the best of a bad year. »
SuperValu – We Believe 
The Irish supermarkets SuperValu celebrate the importance of family and being together, especially after a year we have been distanced, in a commercial with a simple but surprising twist at the end… Agency: TBWA\ Dublin. 
Tesco – No Naughty List 
« After a year like this, there is no naughty list » says Tesco in its 2020 Holiday ad. The retailer encourages you to indulge, have fun and treat yourself to the greatest Christmas possible, with this nice messaging and the revival of Britney Spears' famous « Oops I Did It Again ». Agency: BBH London. 
TK Maxx – The Lil' Goat 
According to TK Maxx, « after the year we've had, everyone deserves to feel special this season, and that includes everyone in our lives, even pet goats. » A weird commercial which celebrates the act of gift-giving and generosity. Agency: Wieden + Kennedy London. 
This article is updated every day until Christmas day!
Bonus: 3 more ads! 
Asda – That's an Asda Price Christmas 
« Christmas is gonna be different this year, parties might be smaller… » The British supermarket Asda has found a way to see the positive side of things: this Christmas might be a thrifty one. A smart and honest take on this tricky edition for marketers. Agency: AMV BBDO London. 
Kmart – Christmas 
Celebrating the simple joy of small moments, the Australian retailer Kmart shows a little girl gifting her family via her remote controlled car, which is quite smartly Covid-19 compliant. Agency: DDB Melbourne. 
Pepsi MAX – Refresh Your Christmas 
Without any reference to this tough year, Pepsi MAX wants to break the clichés and traditions around Christmas, with a short rap song from the two English rappers Kamakaze and TrueMendous. Agency: made in-house.
Very – Christmas is this Very Moment
« Expectations vs reality »: the fashion retailer Very pokes fun at our Christmas preparations, with a super concrete and realistic approach of the festive season. We must agree with the brand, Christmas is much more than only one single day. Agency: Grey London.