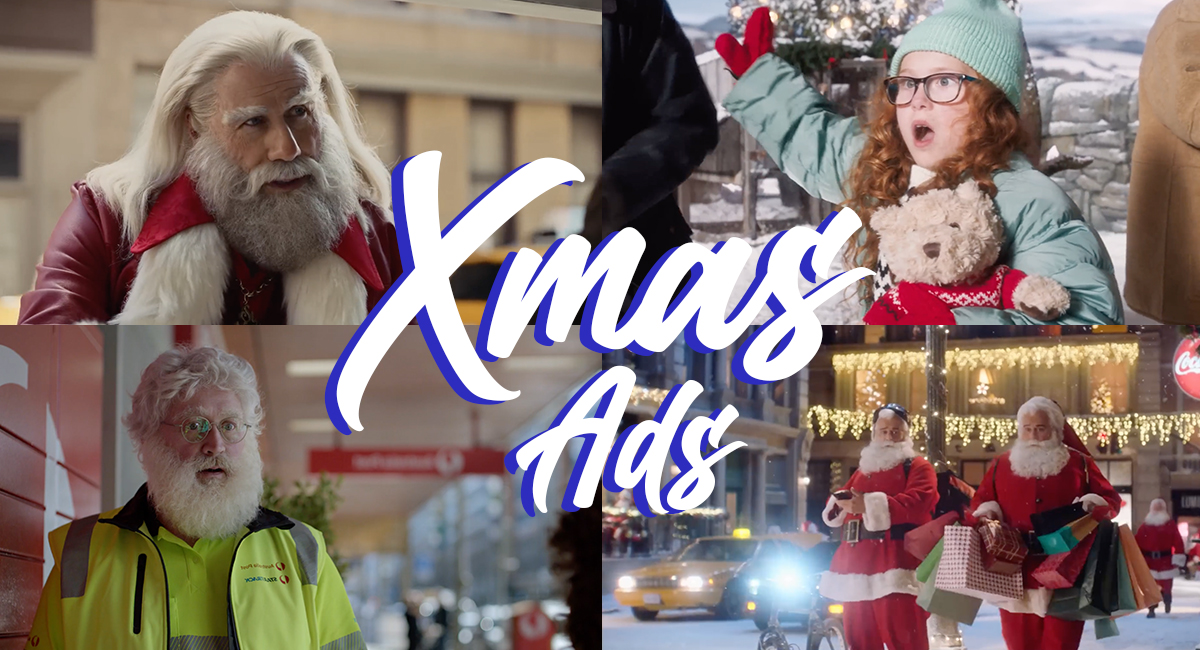 The very best of

the 2023 Xmas commercials. 
Following two Christmas ad seasons significantly impacted by the pandemic (head over here to revisit the best ads from 2020 and from 2021), and a 2022 holiday ad series that nearly returned to a sense of 'normalcy' (check out last year's best ads and main trends), it's time to explore the top advertisements of the 2023 edition and identify the prevailing trends in this annual tradition.
This holiday season, just like in previous years since 2012, I've been diligently watching all the Christmas ads released around the world, and I'm compiling a list of the ones that have captured my attention the most.
6 main trends in the 2023 Xmas ads 
As someone who has been covering the best Christmas ads globally for the past decade, here are the 6 key trends I've noticed from this 2023 edition:
A tempered tone of voice –

It's a confirmation, advertisers have gradually tempered and simplified their holiday messaging. This 2023 line up makes no exception with ads that feel less extravagant and are less expensive production-wise than they were 5 or 10 years ago.
Is it still the most creative moment of the global advertising calendar? – Overall we could say these commercials are quite conventional or 'expected'. Even though there are some very nice ones, this year (so far at least) we're missing an outstanding, unexpected, truly creative, disruptive approach of the season. No ad will be remembered in a year's time.
No context, no risk – What makes these ads 'a 2023 ad', and not an ad from 2015 or 2022? Not much. In contrast to the past three years, there are fewer ads this year that leverage our intricate societal context to establish a connection with consumers: climate change, freedom of speech, wars, inflation, racism, energy crisis… Possibly, brands might have perceived this year as too risky to delve into such themes. 
Bigger (media!) investments – In the UK alone, advertisers are set to spend a record £9.5bn during the 2023 Christmas season, according to new data released by the Advertising Association and WARC. This is a 4.8% increase from last year's record spend of £9bn, demonstrating the continued importance of advertising to the economy during the festive period (main increases are +20.2% on broadcast video on demand, +10.3% on out-of-home and +9.1% on onlune display). We don't believe the creative and production budgets increased as much as the media budget did.
Products over brands – Brands seem more concerned about profits than storytelling this year, with an abundance of product-focused content and plenty of heavy-handed product shots. The shift from capturing hearts to cash is pretty noticeable, especially among retailers.
It's perfectly fine if Christmas isn't your cup of tea – To distinguish themselves from the Xmas frenzy, certain brands such as Aldi, Asda, IKEA, JD Sports, and even Tesco have opted for a less conventional, more authentic approach to the festive season. Rather than the typical enthusiastic and cheesy approach, while some poke fun at Xmas celebrations and traditions, others showcase individuals who don't particularly care for (or may even dislike!) Christmas. This clever and inclusive strategy resonates with a broad audience, including those who are fervent Christmas enthusiasts. 
My favorite 2023 Xmas ads 
So far, for 2023 only, I've watched 90 commercials, and 12 have truly stood out. These ads have impressed me with their creativity, originality, craftsmanship, as well as their emotional impact. After all, I believe Christmas ads should move us.
My

TOP 12

Christmas ads of this year are from the following companies: Aldi ; Apple ; Asda ; Australia Post ; Capital One ; Coca-Cola ; Etsy ; IKEA ; JD Sports ; KFC ; Tesco ; and TK Maxx. 
If you have the time, you can also find the ones I liked slightly less in my YouTube playlist, at the end of this post.
Keep in mind that this is a highly subjective exercise, and I'd love to hear if you have a different selection or ranking in mind. 
1. IKEA – Take a Holiday from the Holidays 
IKEA Canada's Christmas commercial takes a refreshing approach by showcasing people taking a break from the festive chaos and family frenzy. Whether one embraces Christmas Eve wholeheartedly or not, the retailer recognizes that not everyone finds unbridled joy in the season. In this ad, IKEA subtly communicates that it has the perfect furniture solutions to provide individuals with a comfortable refuge from the holiday hustle and bustle. Creative agency: Rethink, Toronto. 
2. TK Maxx – Festive Farm 
'Spoil your loved ones for less.' In TK Maxx's 2023 Christmas advert, animals showcase a range of items,including jumpers, hats, scarves, bags, and slippers. While being a funny commercial syncing an unexpected song for the season (Eve and Gwen Stefani's 'Let Me Blow Ya Mind'), the dialogue between the farmer and his wife echoes everyone's desire to express care through high-quality gifts, while being mindful of finances. The retailer shows in a light hearted way it understands the balance between generosity and budgeting. Creative agency: Wieden+Kennedy, London. 
3. Tesco – Helping You Become More Christmas 
Tesco's 2023 Christmas ad centers around a family embracing the holiday spirit in the lead-up to Christmas. Recognizing that the festive season is more than just December 25th, the campaign taps into the insight that many find the buildup to Christmas more exciting than the day itself. The Dad's infectious enthusiasm turns him into a living Christmas tree and despite his initial reluctance, the son eventually joins in the festive fun. The campaign aims to capture the moments that evoke the Christmas spirit, highlighting the role of food and decoration in creating a festive atmosphere for people at various life stages and locations. Creative agency: BBH, London. 
4. Etsy – Gift Mission 
This year again, your holiday mission (should you choose to accept it!), is to find the perfect gift for your loved ones. It's easier said than done. Set to the iconic 'Mission: Impossible' theme song, Etsy's festive ads depict individuals covertly exploring gift ideas, with a touch of finesse. A well-executed advertising campaign built upon a highly relatable insight. Creative agency: Orchard, New York. 
5. KFC – Kentucky Fried Turkey for Christmas? 
« We heard you. And we ignored you. » The fast-food giant KFC humorously rejects long-standing customer requests for a turkey burger during the holiday season, asserting its identity as a dedicated chicken chain. Positioned as 'the world's first anti-UGC (user-generated content) campaign', it emphasizes that while customers are usually right, the brand will not yield to pressure to deviate from its chicken-centric focus. Creative Agency: Mother, London. 
6. Australia Post – Delivering Christmas for Australia
Australia Post's latest intern features a familiar-looking Santa Claus going undercover to understand the nuances of delivering gifts. Teaming up with posties, he learns that delivering packages doesn't necessarily require magic. The campaign showcases a festive atmosphere with a practical focus on the delivery service, including 'taller-than-usual' workers and the absence of chimney deliveries. Creative agency: The Monkeys (part of Accenture Song), Sydney. 
7. JD Sports – The Bag for Life 
Celebrating the 25th anniversary of its drawstring duffle bag, JD Sports elevates it to a symbol of youth culture. Kano, Nia Archives, Joy Crookes, Central Cee… The ad features young talents alongside everyday individuals, all using the bag for more than just shopping. Described as a Christmas ad, the film avoids typical festive clichés, opting for an uplifting portrayal of contemporary youth and a nod to the '90s rave era with the soundtrack. A commercial that is well scripted, shot and cut. Notably, Kano appears in a Christmas dinner scene with his actual family, adding authenticity to the campaign. Creative agency: Uncommon Creative Studio, London. 
8. Coca-Cola – The Worlds Needs More Santas
Coca-Cola's global advertisement features a city filled with Santas, all engaging in different acts of kindness. Scenes include one Santa encouraging another bench-pressing, cheering for a skateboard trick, and offering a Coca-Cola when a vending machine runs out. The twist reveals that these Santas are, in fact, everyday people spreading kindness to one another. The uplifting track 'I Could Be Santa' by Celeste accompanies the heartwarming scenes. Creative agency: Open X (WPP's agency dedicated to Coca-Cola, led by VML and supported by Grey, Ogilvy, Essence Mediacom, Hogarth and JKR).
9. Apple – Fuzzy Feelings 
« Sometimes, seeing things through a new lens can make all the difference. » The holiday advertisement from Apple presents a contemporary rendition of the Scrooge tale. Through a combination of stop motion and live action, the ad chronicles a woman's artistic creative journey, leading her to perceive her irritable boss in a fresh perspective. Accompanied by George Harrison's 'Isn't It a Pity', the film beautifully underscores that creativity has the power to instill kindness in the world. Creative agency: TBWA\Media Arts Lab, Los Angeles. 
10. Capital One – Holiday Night Fever 
Capital One enlists John Travolta as Santa Claus, bringing his iconic Saturday Night Fever dance moves to the holiday scene. Travolta showcases his famous sidewalk strut and disco groove, with a cameo from Donna Pescow, his co-star from the film. You can tell by the way Santa uses his walk he earns 1.5% cash back on every purchase. Creative agency: GSD&M, Austin. 
11. ALDI – Go Big On The Little Things
ALDI Australia encourages Aussies to embrace the smaller elements that contribute to a festive Christmas feast. The campaign emphasizes the significance of side dishes, with research showing that 73% of Aussies eagerly anticipate these accompaniments as much as, if not more than, the main protein. ALDI aims to celebrate the joy and affordability of enhancing the overall Christmas experience with special trimmings. The ad's craft and funny reinterpretation of « The Time of My Life »(originally performed by Bill Medley and Jennifer Warnes, best known as the theme song for the 1987 film « Dirty Dancing »), makes it great and memorable. Creative agency: BMF, Sydney. 
12. Asda – Make this Christmas Incredibublé 
Asda's 2023 Christmas ad features the King of Christmas songs himself: Michael Bublé. In the teaser, Asda employees stumble upon the Canadian superstar, locked away in the breakroom until the 1st of November. As a Chief Quality Officer, the retailer's seasonal recruit emphasizes the powerful combination of value and quality. Creative agency: Havas, London. 
---
The longer list 
To me these brands developed nice commercials, but they're not 'outstanding enough' to be part of my selection. You can watch them below anyway: Aldi ; Amazon ; Argos ; Barbour ; Bol ; Boots ; BMW ; Burger King ; Cadbury ; Caffè Nero ; Chanel ; Coca-Cola (an old one is running on TV again!) ; Debenhams ; Deliveroo ; Disney ; Dobbies Garden Centres ; Doordash ; Dunkin' ; Duracell ; EPIC The Irish Emigration Museum ; Foot Locker ; Greater Anglia ; Heathrow Airport ; Homesense ; John Lewis & Partners (considered for many years as the leader in Christmas advertisements…) ; Kroger ; Lidl ; Lovehoney ; M&S ; Marshalls ; McDonald's ; Microsoft ; Midea ; Milka ; Morrisons ; Mrs. Doubtfire The Musical ; Mr. Tayto ; Ocean Spray ; OLG ; Orange ; Penny ; Peroni ; PETA ; PetSmart ; Quality Street ; Rangers Football Club ; Red Lobster ; Rimowa ; Rockshore ; Sainsbury's ; Sephora ; Shelter ; Sky Cinema ; Sports Direct ; Suchard ; Telstra ; Temptations ; Tiffany & Co. ; TUI ; Very ; Vodafone ; Waitrose ; Westfield ; Wonderbly ; WWF ; Zalando. 
Check my YouTube playlist 'All the '2023 Christmas commercials' (and subscribe!)
Wishing you all a joyous holiday season! Feel free to share your thoughts in the comments, especially if you believe I've overlooked a significant commercial or if you have differing opinions about my selections.
If you want to look back: Watch the best Christmas commercials from 2012 to 2023