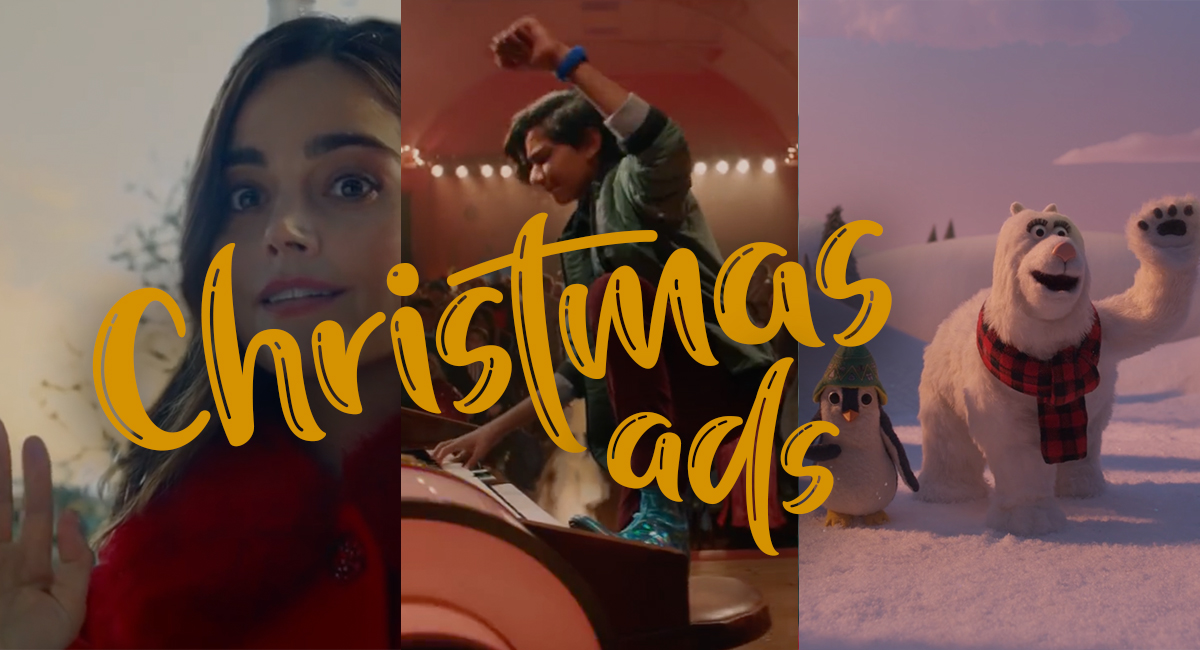 Are Christmas ads

back to normal?
After a very special Christmas last year following a very tough year of 2020 across the globe, and even though the pandemic is not over yet, we can observe that things are slightly getting back to « almost normal » in advertisers' 2021 festive ads. Pure joy, fun and even madness are back, expensive and real life productions as well, while large family and friends gatherings are acceptable again on screen.
This season (like in the past years) I'm watching all the Christmas ads released around the globe, and shortlisting, ranking in this article the ones I like the most. So far I've watched 44 commercials already released (all below), and 15 really caught my attention, for their creativity, originality, craft, but also for how they play with the current societal context, and for their emotional power, because yes in the end these ads must move us.
My

15

favorite Xmas ads this year are: Apple, Barbour, Bol.com, Boots, Coca-Cola, Disneyland Paris, Disney UK, LEGO, Lidl, Macy's, Posten (Norwegian Postal Service), Staatsloterij (Dutch State Lottery), Tesco, TK Maxx, and Vodafone.
You can also find the ones I liked a little less (but are still worth the watch if you have time!) at the bottom of this article.
Of course it's a very subjective exercice, let me know if you would have made a different selection and/or ranking!
1.

Macy's – Tiptoe and the Flying Machine 
It's an emotional and powerful stop motion film that Macy's shares with us this year. A tale that stars Tiptoe, a bright-eyed and lovable blue reindeer on the verge of realizing her ultimate dream, to join Santa's Sleigh Team and deliver magic around the world on Christmas Eve. Agency: BBDO New York. 
« With Tiptoe & The Flying Machine, we've created one of our most powerful campaigns to date, bringing to life the magic and wonder of the season, while further positioning Macy's as the ultimate gift destination and 'Believe' as our emotional epicenter for the holidays. » Rich Lennox, Macy's Chief Customer Officer.
2.

Boots – Bags of Joy 
In its 3 minutes 2021 Holiday commercial, Boots features Doctor Who and Victoria actress Jenna Coleman. The story sees Joy discover that her bag of Christmas gifts is bottomless (as she empties it on her bed), sharing items with family and friends, creating special moments for everyone throughout the season. Directed by Academy Award winner Tom Hooper, with an orchestral score from Rachel Portman recorded at Abbey Road Studios, the ad has an all-star production, exactly what a viewer would expect at this time of year. Agency: The Pharm (WPP's partnership team dedicated to Boots).
« There was such feedback from customers that we all want this Christmas to be amazing because we have got to make up for not having a proper one last year. » Pete Markey, Boots' Chief Marketing Officer. « You can feel the desire to experience something different, people want to smile and we tried to capture that." Laurent Simon, VMLY&R London's Chief Creative Officer.
3.

Disney – The Stepdad 
For the second year in a row, Disney created a bespoke short animation film for the festive season, bearing the hallmarks of a Pixar short. « Stepdad » takes viewers on a journey of ups and downs, heightened by realistic animation and lovable characters. A beautiful film which celebrates the power of storytelling to inspire imagination, as well as the magic created by reading, and building together. Agency: made in-house. 
4.

Tesco – This Christmas, Nothing's Stopping US 
After a frustrating Christmas in 2020, this year the British retailer Tesco puts itself as THE partner to make Christmas happen, no matter what the world throws at us. A funny, dynamic film, that found the perfect balance between our cultural traditions and these uncertain times. Driven by the insight that « 86% of UK adults vow that nothing will stop them from pulling out all the stops this Christmas » the campaign illustrates the lengths people will go to create shared memories with their loved ones. The commercial features Queen's famous 'Don't Stop Me Know' song, it's not a super original synchro but it's always very effective. Agency: BBH London. 
5.

Coca-Cola – Chimney 
A young boy's idea becomes a community obsession in Coca-Cola's 2021 global Holiday ad. A narrative based on a simple consumer insight: Santa Claus famously arrives via chimney to dispense Christmas presents each year, but obviously not everyone in the modern age has a chimney. Revisiting Mary Poppins' famours « Chim Chim Cher-ee » song, this wonderful film shows all the great things we can do when we come together. Agency: dentsumcgarrybowen London. 
6.

Posten (Norwegian postal service) – When Harry met Santa
The only Christmas ad starring a gay Santa Claus. The Norwegian postal service, called Posten, continues its tradition of subverting classic festive tales. This year its commercial features Harry, a man who anticipates Santa's return every Christmas, who also enjoys this time together. Therefore Santa decided to get some help, so he can spend Christmas day with Harry. This beautiful and unusual love story celebrates the upcoming 50th anniversary (on June 17, 2022) since Norway abolished a law prohibiting same sex relations. Agency: POL Oslo. 
7.

Barbour – Please Look After This Bear
Emotive, fun and heart warming, Barbour's festive film follows the mishaps and adventures of the much-loved children's character Paddington, as he comes up with an idea for a thoughtful gift. Full of nostalgia, it celebrates the joy of giving a very special present that means so much. Every frame of the animation is hand drawn and painted, with close to 3.000 hours of work in total. Agency: Thinking Juice (Barbour's integrated creative agency).
« Paddington is kind hearted and full of good intentions, even if he does get into scrapes along the way! To celebrate our Re-Waxing Centenary, we have centred the story around a thoughtful gift from Paddington as he re-waxes Mr Brown's beloved Barbour jacket for Christmas. It's nostalgic, humorous and sentimental and shows just how much our Barbour jackets are loved and become an important part of the family; if re-waxed at least once a year, they can last a long long time." Paul Wilkinson, Barbour's Group Marketing Director.
8.

Vodafone – Give the Gift of Connection 
Focusing on the joy of giving, Vodafone's Christmas 2021 campaign aims to inspire the nation to help those living in digital poverty in the UK, by donating old devices. Vodafone will add six months of free connectivity to devices donated to its Great British Tech Appeal, with charity partner Barnardo's redistributing them to disadvantaged families. The TV commercial follows the journeys of a young man leaving his house, a woman on a bus, and a man cycling a city street as they travel to a Vodafone store, to donate devices they no longer need, with their reflections magically becoming Santa. Agency: Ogilvy London. 
« This year we've created an uplifting campaign that harnesses the generosity of the nation at Christmas. We want to invite people to join our quest to tackle digital poverty and do so with a motivational and positive message. It gives people an easy way to help someone in need, and we hope many will find their inner-Santa. » Max Taylor, Vodafone UK's Consumer Director.
9.

TK Maxx – Christmas to the Maxx 
This year TK Maxx has opted for an all-singing, all-dancing commercial, that tells the story of an awkward teenager on stage at his Christmas comeback concert. The awesome boots he was gifted by his parents give him the confidence to perform: as his confidence grows, he delivers a special version of Aerosmith's « Walk this Way », using his shiny boots… Agency: Wieden + Kennedy London. 
« We want to celebrate what we hope will be a Christmas of joyful optimism – with community, family and fun at its heart. This charming ad is an upbeat, colourful and super-shiny reminder that when you find the right gift for someone, and it's special to them, the impact and happiness you might create knows no bounds. » Deborah Dolce, TK Maxx's Senior Vice President, Group Marketing.
10.

Staatsloterij (Dutch State Lottery) – Fritsie 
A wooden cuckoo bird called Fritsie is the hero of the Staatsloterij (Dutch State Lottery) 2021 Holidays commercial. Dedicated to its New Year's Eve draw, this films extends the lottery's end of year marketing tradition: lovely films starring animals. The story of Fristie and his owner is all about sharing, everything, even your luck. Agency: TBWA\ Neboko Amsterdam. 
11.

Apple – Saving Simon 
A young girl makes room for her snowman in her family freezer, where she hopes it will endure until the next snows roll around. Apple's holiday ad for 2021 follows this stressful wait, with forgetful family members, and power outages conspiring to melt her creation. The commercial was shot entirely on the iPhone 13 Pro, by Hollywood icon Ivan Reitman and his son Jason Reitman. It's actually the first time the elder Reitman, director of 1984's Ghostbusters, has directed a project alongside his son, who led the reboot of the supernatural franchise this year. The film ends with a beautiful tagline: « To the ones we've waited all year to be with. » Agency: TBWA\ Media Arts Lab Los Angeles. 
12.

Disneyland Paris – The Mistake
Every Christmas it's a challenge to find the perfect gift for each of our family members. Thankfully, tickets to Disneyland Paris is the kind of gift that brings joy to everybody, from children to adults. The themed park plays with this observation, and puts a nice little twist in its 30 seconds festive film. Agency: BETC Paris. 
13.

Bol.com – The store of happy faces
This is the story of the young Felix, who receives a foot ball as a gift on Sinterklaas. It's not quite the gift he was hoping for, but with a touch of fantasy, he makes the most of it. The two become best friends until Christmas Eve, when Felix gets another present, ordered via bol.com… Agency: Dept Amsterdam. 
14.

Lidl – Big on a Christmas you can Always Believe in 
The German discounter's new Christmas ad takes a tongue-in-cheek look at how a family might celebrate Christmas dinner decades into the future. Lidl features in these 'futuristic Xmas eves' innovations like laser knives, space jumpers, and a dog with special powers. Agency: Karmarama (Accenture). 
15.

LEGO – Anything is Possible 
As usual, the limitless nature of children's imagination is celebrated in LEGO's 2021 Christmas ad. This time with scenes of Star Wars stormtroopers running away from insects, a dragon who puts out fires rather than starting them, or even clothes-cactuses. The brand once again takes kids to a creative world where no rules apply. Agency: made in-house. 
The other 2021 Christmas ads 
To me, the following brands developed nice and/or lovely commercials for the 2021 Holidays, but their film didn't make my cut this year (cf my criteria mentioned at the top of this article): Albert Heijn, Amazon, Amazon Prime Video, Argos, Asda, BBC, Bouygues Telecom, Chase, Deliveroo, Disney World, Domino's, Erste, JD Sport, John Lewis & Partners (for the first time out of my shortlist), Louis Vuitton, Lowe's, Marks & Spencer (x2), McDonald's, Morrisons, O2, Peloton, Sephora, Sports Direct, Three, Waitrose, Zalando.
Happy Holidays to you all, and please let me know in the comments if I missed a commercial, and if you agree / disagree with my shortlist!