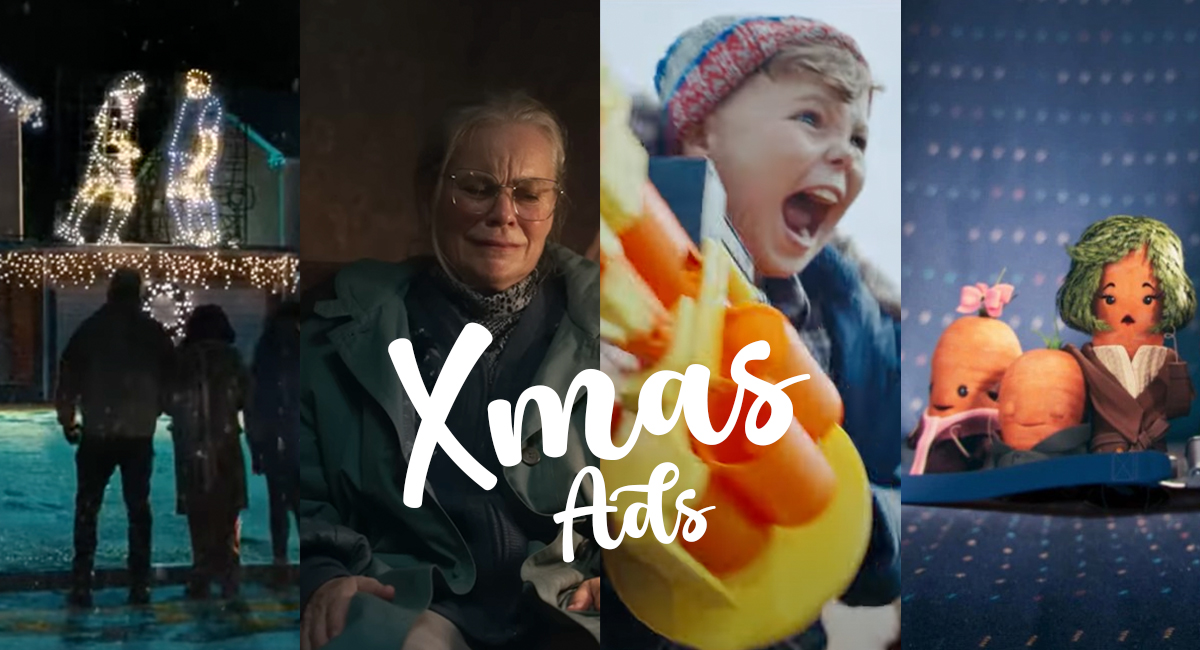 The very best of

the 2022 Xmas commercials. 
After two very special Christmas ads seasons in 2020, as in 2021, especially because of the pandemic, the 2022 festive ads series isn't completely back to normal. Pure joy, fun and even madness are coming back, expensive and in real life productions as well, while large family and friends gatherings are acceptable again on screen.
Nevertheless, this year has been tough around the globe for many other reasons: climate change, racism, freedom of speech, war in Ukraine, inflation, energy crisis… I report on the greatest Christmas ads around the world since 10 years, and in my opinion it seems that advertisers are slowly toning down, and scaling down, their communication around the Holidays.
This season (like in the past years) I'm watching all the Christmas ads being released around the globe, and shortlisting, ranking in this article the ones that I like the most. So far I've watched the 60 commercials already released, and 15 really caught my attention: for their creativity, originality, craft, but also for how they play with the current cultural and societal context, as well as for their emotional power. Because yes, in the end, I believe Xmas ads are meant to move us.
My

15

favorite Xmas ads this year are the ones from: Aldi, Argo, Asda, Australia Post, Fussy, John Lewis & Partners, Kroger, Lidl, Paddy Power, Penny, Posten, Sainsbury's, Shelter, Smartbox, and Walmart.
You can also find the ones I liked a little less (but are still worth the watch if you have time!) at the bottom of this post, in my YouTube playlist. 
It's of course a very subjective exercice, let me know if you would have made a different selection and/or ranking!
4 trends from the 2022 Christmas ads
The Christmas campaigns of global brands are often perceived as 'one of the greatest brief of the year' on the agency side, but the expectations and the investments are so high that it also comes with quite some pressure, and many challenges. The main one this year? As consumers will watch their wallets and pull back on non-essential purchases more than ever, brands have to strike a balance between recognising that consumers are facing financially challenging times, while also acknowledging that people still want to have brilliant Holidays.
Indeed, people don't necessarily want the current tight times to be reflected back at them. Here are four observations from this 2022 Xmas ads season, making it a bit different than in the previous years: 
Some brands are picturing the challenges our societies are facing: Xmas ads used to be about pure happiness and big budgets, but this year some brands (especially retailers such as John Lewis and Penny) have opted for a more toned down, realistic approach. They are addressing the divisions that are increasingly running through our world, preaching for fewer barriers, and more empathy.
Animated ads are still big: on the production end, animated commercials keep playing a growing role. This has been boosted by the in real life shooting restrictions in the past 2 years, but on Christmas 2022 this production solution is still pretty popular.
Not another 'white' Christmas: the advertising industry is getting more representative and inclusive in the past years, and as you will see it below this year's Xmas commercials confirm this positive trend.
A football-themed Xmas: for the first time ever (and maybe the last?) the FIFA World Cup is happening during the days leading up to Christmas eve, and some advertisers are leveraging this cultural context to better connect with their audience. Not all of them of course, as the competition is facing many fair criticisms…
The 14 greatest ads of Xmas 2022 
1.

Posten – Father Christmas and Mother Earth
The Norwegian Postal Service, called 'Posten', has found a very interesting angle on what it is to celebrate Christmas in 2022. As combating climate change is always more crucial and central in our societies, the 4 minutes-long film is showcasing the love/hate relationship between Santa and his beloved Earth. Father Christmas is intent on bringing as much joy to people as possible through gift-giving, whereas Mother Earth views overconsumption as problematic. The postal service also used data from Norway's 'Climate Index' that highlighted only 10 out of 100 companies have cut emissions in accordance with the targets set in the Paris Agreement, inviting us all to « step up ». Agency: Pol, Oslo. 
2.

Kroger – The Magical Cookbook 
This year, the Kroger supermarkets have unveiled a campaign that makes people feel warm inside. In the minute-long animated film, an older man comes across his late wife's cookbook, and as he creates some of the dishes, he relives past events. The commercial ends with the man enjoying a meal with his family, and this tagline: « Today's Holiday Moments Are Tomorrow's Memories ». 
« As you dig into it, you have to make sure you're not going overly cheesy or overly sentimental. It's just a matter of writing, and writing, and writing. I think we probably went through 50 to 100 different scripts. » Mat Bisher, Chief Creative Officer at DDB New York. Agency: DDB, New York. 
3.

Penny – The Rift 
Among the 2022 festive ads, the German discount supermarket chain Penny has released an outstanding one. Stunning, brutal and not merry at all, it portraits a grand mother's very tough day, facing multiple arguments with her neighbours. Along the four-minute film, everything falls apart around her: the walls begin to split apart, raining down plaster, and her glasses are cracking, physically mirroring the granny's increasingly shattered psyche. As usual (see here), Penny pulls no punches in its depiction of society's divisions, though ends with a message of hope. Agency: Serviceplan, Germany. 
4.

Australia Post – Spread the Merry 
Australia Post is taking its annual « Spread the Merry » campaign to new heights this year, with a continued focus on reconnecting with family and friends. The campaign tells the story of an inflatable Santa who has been blown from a suburban lawn on a freewheeling airborne adventure across Australia, spreading the merry as he flies.
« We could all use an added dose of merry, and our campaign perfectly brings together a feeling of fun, wonder and surprise. We're proud to be responsible for delivering parcels and cards full of joy right across Australia this festive season. » Amber Collins, Australia Post's Chief Marketing Officer. Agency: The Monkeys, Sydney (part of Accenture Song).
5.

Lidl – The Story of Lidl Bear 
Lidl UK's festive ad follows the story of an expression-less bear, who (after a little girl's dad shrunk his Christmas jumper in the wash) faces a sudden fame. The short film highlights the highs and lows of becoming an unlikely celebrity. « What stands Lidl Bear apart from other Christmas characters is its hilarious, deadpan expression. By displaying no emotion, it manages to create humour and deliver our message about what's actually important this Christmas. » Claire Farrant, Lidl UK's Marketing Director.
« You also won't be seeing Lidl Bear for sale in any of our stores. Because, in the face of unrealistic Christmas expectations and pressure, we know what really matters is being with the people we care about. Instead of selling Lidl Bear, we're asking everyone who can to spare a bear, and other toys, to give to those in need this Christmas. » Peter de Roos, Lidl UK's Chief Commercial Officer. Agency: Accenture Song, London. 
6.

Smartbox – The Hesitation 
Celebrating the growing value of real-life experiences, Smartbox takes us on a diverse range of experiences, from the iconic, to the daring. The film takes us on a high energetic journey through a small selection of the hundreds of gift experiences available. The protagonist is deliberating on what experience to gift and imagines its recipient in a variety of experiences, ranging from an underwater adventure scuba diving, to thrill seeking skydiving, to a more traditional massage, all demonstrating that there really is something for everyone on the extensive experience gift platform. Production agency: Hamlet, Paris. 
It's supposed to be the most wonderful time of the year, but in a period fraught with uncertaintieS, that remains to be seen. After two years of robust holiday sales, retailers are expected to see more modest gains this year.
7.

Argos – They're Coming. Be Ready. 
Argos 'warns' shoppers of Christmas chaos. In its wry festive spot, the retailer tells the story of a couple preparing to host a Christmas get-together at their house. As a real « caters to the chaos », hundreds of people are making their way to the couple's home. From dozens of aunties armed with trifles, to a group of people laughing hysterically at some Christmas cracker jokes, the couple's home begins to shake as they look at each other nervously, thinking about what is approaching… Agency: The & Partnership, London.
8.

John Lewis & Partners – The Beginner 
Compared to previous years, this Holiday season John Lewis has decided to tell us a sweet but realistic story, raising awareness of children in foster care in the UK. The spot stars a middle-aged man who appears oddly obsessed by learning how to skateboard, until we find out why. « We are fortunate to have a truly unique platform in our Christmas ad, which sparks a national conversation. For our biggest moment of the year, we decided to focus on one kind of family that is often overlooked. » Claire Pointon, John Lewis' Director of Customer. Agency: adam&eve DDB, London. 
9.

Asda – Have Your Elf a Merry Christmas 
To mark the festive period, the British retailer Asda has recruited a very enthusiastic team member in 'Buddy the Elf', using footage from the hit Warner Bros movie « Elf » (2003). Made famous by actor Will Ferrell, the lovable elf is once again spreading cheer for all to hear, landing his dream job at this supermarket.
« We know this has been a tough year for so many people, which is why we hope that with a little bit of help from Buddy, our joy-filled Christmas offering will create some festive magic and help give families a Christmas to remember together. » Sam Dickson, Chief Customer Officer at Asda. Agency: Havas, London. 
10.

Aldi – Kevin the Carrot, Home Alone 
Aldi UK's Christmas ad parodies the movie 'Home Alone', as Kevin (the Carrot!) gets left behind for the Holidays. The character 'Kevin the Carrot' returns for another Christmas adventure with Aldi, as he wards off an unwelcome home intruder… « Christmas celebrates the joy of being with loved ones, and this year more than ever we all need a bit of light entertainment as we celebrate the season together. » Adam Zavalis, Aldi UK's Marketing Director. Agency: McCANN, London. 
11.

Fussy – Deck The Halls 
For its 2022 Holidays marketing, the sustainable deodorant brand Fussy has opted for a weird tone. In the film below, a trio called 'The Fussy Pits' perform their very own version of the « Jingle Bells » Christmas carol… With their pits. « The amount of single-use plastic we throw away every year is just silly. So, why not a silly song, to help provide a solution. » Agency: 10 Days, London. 
12.

Paddy Power – Where were you in '22? 
These Holidays, the Irish betting firm Paddy Power is naturally going full-on soccer, with an irreverent take on festive traditions. It has come out all guns blazing for the season, celebrating the calendar collision of the World Cup and Christmas, delivering its own take on the true meaning of Christmas… « For the first time in our lives, football fans and brands are faced with the prospect of Christmas colliding with a Winter World Cup. It's unchartered territory for all of us. It presented us with double the opportunity to surprise and delight football fans. » Michelle Spillane, Marketing and Brand Director for Paddy Power UK & Ireland. Agency: Droga5, London. 
13.

Sainsbury's – Once Upon a Pud 
The Sainsbury's supermarkets' 2022 festive fairytale spot stars Alison Hammond, around a « Xmas pud-hating » story. The light-hearted Christmas campaign immerses us in an imaginary medieval world, where a Countess hates pudding… Until she « tastes the difference ». Agency: Wieden+Kennedy, London. 
14.

Shelter – Brave Face 
The British homelessness charity called Shelter has released a film that has a heart-wrenching twist. It tells the story of Jayden, a kid who's doing his best to keep a smile on his face, through a series of tough life moments. The emotional commercial is meant to expose the grim reality of the UK's 119,500 children who'll wake up on Christmas Day in bleak, temporary accommodation.
« This year, hundreds of thousands of children will be spending Christmas in damp storage containers, badly converted office blocks and cramped B&Bs. Families will be sleeping on sofas, staying with friends and relations, with no permanent place to call home. People will be sleeping in freezing cars, damp tents, and dirty doorways. This is not a home. We must act now. » Donations: Shelter.org.uk. Agency: Don't Panic, London.
15.

Walmart – All the Ways We Holiday
The retail giant Walmart has casted real customers for its 2022 festive campaign. An original, unusual casting, for a message that is pretty simple: however you celebrate the season, there is everything you need at Walmart. These customers have shared their stories and cultural differences with the retailer, but they are also featured in the ads, even doing the voiceover themselves. Agency: Publicis, Digitas, and Fallon, New York. 
Watch even more 2022 Christmas commercials in my YouTube playlist below!
This longer list includes ALL the 2022 Holiday ads, including global brands such as Amazon, Apple, Boots, Cadbury, Dior, Etsy, Foot Locker, IKEA, LEGO, Louis Vuitton, Marks & Spencer, McDonald's, Ocean Spray, Pringles, Sephora, Tesco, Zalando…
Happy Holidays to you all, and please let me know in the comments if I missed an important commercial, and if you agree or disagree with my shortlist! 
If you want to look back: Watch all the Christmas commercials from 2012 to 2022