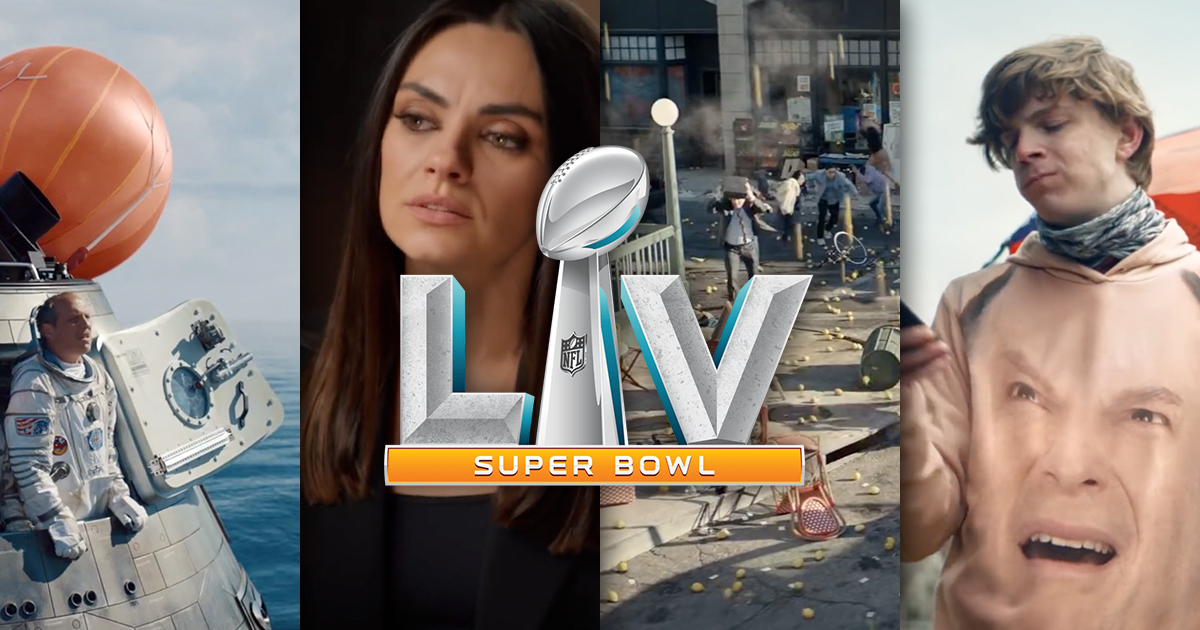 The trickiest Super Bowl

ever. 
Following a Holiday season full of unusual Christmas ads, the Super Bowl 2021 is also impacted by the pandemic. This Super Bowl « LV » (the 55th edition) will notably be missing some staple advertisers this year, including Audi, Budweiser, Coca-Cola, Ford, Hyundai, Olay, Pepsi, P&G…
For instance, Coca-Cola said it made this decision « to ensure that we are investing in the right resources at this unprecedented time. » The giant recently laid off roughly 17% of its global workforce (about 2,200 employees) so it feels quite natural to not spend $10 million on such ads like he did last year. We can easily understand the uncertainty of the past year has made the task particularly daunting for brands, most of whom begin the planning and production process for a Super Bowl spot several months in advance.
« Each brand is forced to find the right tone during a difficult moment unlike any other. »
Stuart Elliott, former New York Times advertising columnist. 
Despite an obvious decline in demand for the spots, CBS' commercial lineup is full since late January, while all the Super Bowl 2020 commercials were already sold 3 months before, in November 2019. In 2020, the cost of a 30-second ad was about $5.6 million. After years and years of price increases, this year it is a little bit « cheaper »: a 30-second airing during the Super Bowl 2021 will cost $5.5 million to brands. And as usual some will air spots that last up to 2 minutes…
Stepping out of the « official » Super Bowl commercials does not mean there is no marketing from the brands who made this choice: hit to the bottom of this article to discover what they did with their savings…
My TOP 19 favorite Super Bowl 2021 commercials (among the 58 revealed so far): Amazon, Bud Light (x2), Cadillac, Cheetos, Chipotle, Doritos, Frito-Lay, General Motors, Huggies, Jeep, Jimmy John's, Michelob Ultra (x2), Pringles, Reddit, Tide, Uber Eats, Vroom. 
Amazon – Alexa's Body
What would technology look like if it had a human body? This Super Bowl 2021 ad from Amazon explores this question: its 'Alexa' vocal assistant takes a human form in Michael B. Jordan, in an executive's daydreams… Agency: Lucky Generals. 
Bud Light – Last Year's Lemons 
« A whimsical spin on the small hardships the pandemic brought us ». From DIY haircuts to busted wedding plans, Bud Light found a smart way to play with these difficult times by showing lemons falling from the sky as a symbol of all the « lemons » 2020 brought us. Agency: Wieden + Kennedy New York. 
In another spot, Bud Light gathers all the heroes of its previous campaigns to help a delivery man accomplish his mission…
Cadillac – Scissor Hands Free
Timothée Chalamet is 'Edgar Scissorhands' (Edward Scissorhands' son!), and her mother is (as in the original Tim Burton movie from 1990) Winona Ryder in Cadillac's Super Bowl commercial. The ad uses Edgar's different abilities to illustrate the advantages of the LYRIQ's hands-free driving feature. During filming of the ad, Tim Burton was involved and acted as a consultant. Agency: Leo Burnett Detroit. 
Cheetos – Advice / Evidence (teasers) 
Mila Kunis, Ashton Kutcher and Shaggy are reunited in Cheetos' big game commercial, playing with the famous song « It Wasn't Me » and the 2 actors' relationship…  It's always hard to convince someone else you didn't swipe their snack. Agency: Goodby Silverstein & Partners San Francisco. 
Chipotle – Can a Burrito Change the World? 
The Mexican food giant Chipotle is airing a commercial highlighting its environmental commitments via the innocent discussion of 2 kids. « One of the things we felt in 2020 is that consumers want to know a brand's values. We really wanted to highlight how hard it is to be a farmer" said Chipotle's CMO, Chris Brandt. Agency: Venables Bell & Partners San Francisco. 
Doritos – Flat Matthew 
Mindy Kaling and Jimmy Kimmel teased (and star in) Doritos' Super Bowl 2021 commercial, which features a « flat » Matthew McConaughey, to promote its « 3D Crunch » snacks. A new « look » that can be convenient, until… Agency: made internally.
Frito-Lay – 'Twas the Night Before Super Bowl 
The Super Bowl legends of yesteryear (Peyton Manning, Eli Manning, Joe Montana, Jerry Rice, Troy Aikman, Terry Bradshaw, Jerome Bettis and Deion Sanders) are reunited in Frito-Lay's commercial. They are too excited about the big game to sleep, so they're up causing mischief and eating their favorite snacks, all narrated by Marshawn Lynch. Agency: made internally.
General Motors – No Way Norway
Will Ferrell isn't happy that Norway ranks way ahead of the US when it comes to electric vehicle adoption, and with General Motors they want to do better… This 2021 Super Bowl ad also features Kenan Thompson and Awkwafina. Agency: McCANN New York. 
While this year's Super Bowl will look entirely different than ever before, it is still expected to be the most-watched event of the year, making it a priority moment for brands.
Huggies – Welcome to the World, Baby 
This is the very first time a diaper brand runs a Super Bowl ad, it is quite surprising as the COVID-19 pandemic appears to be driving the U.S. birth rate to a record low, and not all the Super Bowl viewers are parents. Huggies' final commercial, the one which aired during the final, featured babies born that very Super Bowl day. Agency: Droga5 New York. 
Jeep – The Middle 
A unifying cry for a deeply divided nation. This year, Jeep focuses on the « US Center Chapel », a tiny wooden worship house in Lebanon (Kansas), and is narrated by the legendary Bruce Springsteen. The geographic center of America is used as a metaphor for the political middle ground, described in the spot as « a hard place to get to lately—between red and blue, between servant and citizen, between our freedom and our fear ». Agency: Doner Detroit. 
Jimmy John's – Meet the King 
The American sandwich chain Jimmy John's makes its Super Bowl debut with a spot featuring Brad Garrett as « The King of Cold Cuts »: Tony Bolognavich. He's ready to declare sandwich war on Jimmy John's as its growth is eating into his sandwich-selling empire… Agency: Anomaly Los Angeles. 
Michelob Ultra – Happy 
Michelob Ultra's commercial for the 55th Super Bowl shows a different side of its world-class athlete partners: Anthony Davis, Brooks Koepka, Peyton Manning, Alex Morgan, and Serena Williams. It also asks a relevant « chicken-egg dilemma » question about happiness: « Are you happy because you win, or do you win because you're happy? » Agency: Wieden + Kennedy Portland. 
Michelob Ultra – All-Star Cast  
In a second 1 minute film, Michelob Ultra pokes fun at the usual Super Bowl commercials full of celebrities, with fake ones and only one real Don Cheadle, who appears alongside his lookalike: his brother. Agency: FCB Chicago. 
Pringles – Space Return 
This Super Bowl spot continues Pringles' « flavor-stacking » messaging. It is so fascinating that even people in a NASA-like mission control room, or a full boat crew, don't notice two astronauts stranded at sea… Agency: Grey New York. 
Reddit – Wow, that actually worked 
« Some say the average attention span for an ad is 5-seconds. » Reddit crashed the Super Bowl with a surprising TV commercial of 5 SECONDS, the shortest of this Super Bowl 2021. An ode to its communities: « Thank you to our communities who inspire us to pull off crazy stunts, like buying a really expensive media placement three days before kickoff. » Agency: R/GA New York. 
Tide – The Jason Alexander Hoodie
Jason Alexander is the Tide's Super Bowl 2021 commercial hero. The 'Seinfeld' star appears as a computer-generated image on a hoodie that has been pretty dramatically soiled by a teenager… Agencies: Saatchi & Saatchi New York + Woven Collaborate (P&G's internal agency).
Uber Eats – Shameless Manipulation 
« Saturday Night Live » vets Mike Myers and Dana Carvey are reunited by Uber Eats to reprise their roles from the famous « Wayne's World » skit and films. Even Cardi B joins them to invite everyone to « eat local » and support local restaurants. Agency: The Special Group.
Vroom – Dealership Pain 
The online car dealer Vroom will air its first-ever « Big Game ad » this year, with a 30s spot dramatizing the painful process of car shopping. It has been the first brand to reveal its Super Bowl ad this year, mid-January, almost 1 month before the game. Agency: Anomaly New York. 
The Super Bowl was about the parties and getting together. That ain't happening.
ALL the Super Bowl 2021 commercials are gathered in this playlist on my YouTube channel (even the ones that I liked less!):
Creative activations from brands who stepped out of the Super Bowl 2021 
Among all the big brands who decided to not air any TV commercial during the Super Bowl final (Audi, Budweiser, Coca-Cola, Ford, Hyundai, Olay, Pepsi, P&G…) some of them still prepared a commercial for the occasion. You can watch the most creative ones below.
Budweiser – Bigger Picture 
For the first time in 37 years, Budweiser isn't airing a commercial during the Super Bowl. Instead, the beer brand is redirecting its advertising dollars to support COVID-19 vaccines awareness and education. A simple but bold move. Agency: David Miami. 
Coors – Big Game Commercial of Your Dreams 
Molson Coors can't run national ads on the Super Bowl because rival AB InBev holds category exclusivity for alcohol. This year, however, Coors dreamed up a novel way to overcome that disadvantage and generate some « Big Game buzz ». The brewer created a campaign designed to put a beer commercial IN YOUR DREAMS. Agency: DDB Sydney + DDB Chicago. 
Verizon – 5G Stadium 
Verizon has recreated the Super Bowl final's Raymond James Stadium (Tampa) in Fortnite, on the day of the big game will allow gamers to interact with their favorite NFL players. Agency: R/GA New York. 
Tell me in the comments which one is your favorite commercial! 
(Re)discover the greatest Super Bowl ads of 2020, 2019, 2018… Here: All the Super Bowl ads