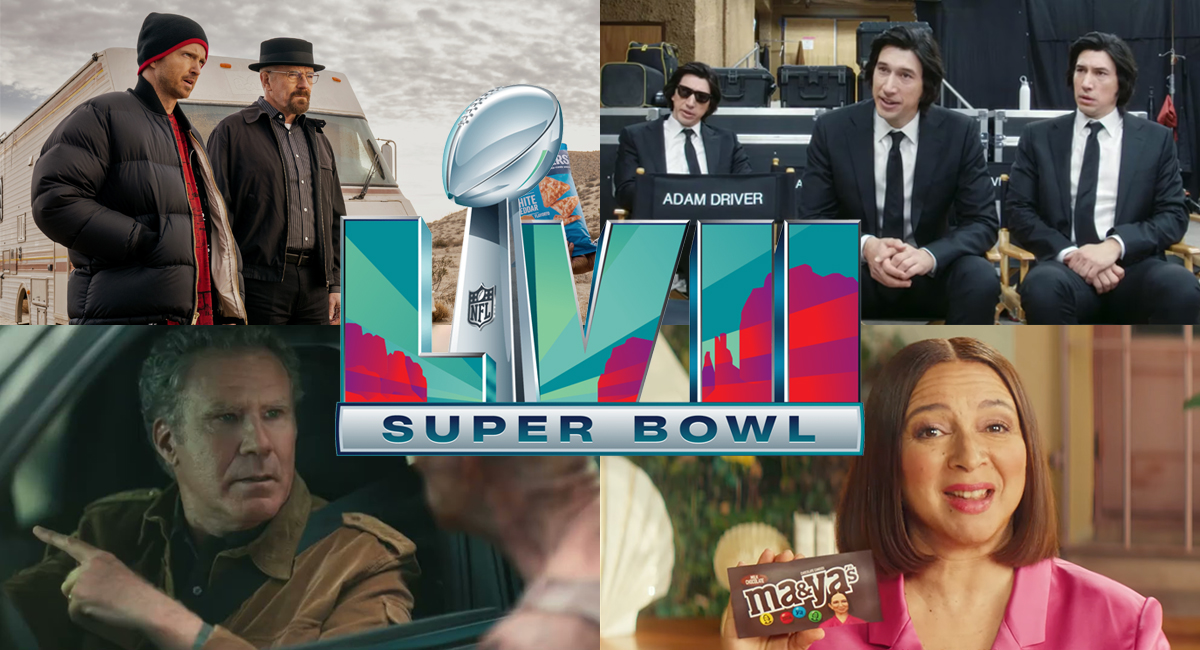 The most

watched

TV commercials of the year. 
With a viewership of around 101 million people in 2022, the final playoff game of the NFL is still a unique opportunity for companies to reach a lot of Americans (and more!) at once. At the Super Bowl 2023 (LVII) a 30-second spot costs brands a record $7 million ($233.000 per second!), an all-time record.
After Coinbase's QR code last year (re-watch it here), what brand has 'won' the Super Bowl this year? You will find my 8 favorite creative concepts here below. 
Out of the around 60 ads released this year, my

8

favorite 2023 Super Bowl ads are from: General Motors, M&M's, Miller Lite, PopCorners, Sam Adams, Squarespace, Uber and Workday. Watch them all below! 
General Motors x Netflix – Why not an EV?
The giant car manufacturer is teaming up with the giant streaming platform, a unexpected collab. Their commercial starring Will Ferrell echoes their recent « strategic alliance » agreement, as Netflix will soon facilitate General Motors' EV appearances in a number of its original shows and films. In this short film, the actor navigates an EV through various scenes of popular Netflix titles, including Army Of The Dead, Stranger Things, Bridgerton, Squid Game, Love Is Blind… 
M&M's – Ma&Ya's 
M&M's is returning to the big game after a year-long absence. After M&M's faced backlash about its green and purple mascots candies, and announced it would 'dump' them, the brand hinted that Emmy-winning actress Maya Rudolph may take the place of its legendary 'spokescandies,' which have been around since 1954. As many have speculated, M&M's confirmed that the drastic change is, in fact, a stunt, and the brand's iconic mascots aren't going anywhere. The final ad coming out of this outstanding stunt during the Super Bowl LVII sees « Ma&Ya's » introducing a new snack: « clam candies »… Agency: BBDO New York. 
Miller Lite – The High Stakes Beer Ad 
For any brand, beyond winning the big game's day, it's always challenging to own the days leading to it. Therefore always more brands reveal their precious, expensive commercial way ahead of the game. Tapping into the popular cultures of gaming and betting, Miller Lite has made its ad 'bettable', inviting its fans to make their picks among different elements: what beer will be advertised first, what will be the floor of the bar made of, the order of appearance of the slogans, the type of dog starring in the ad… With a prize pool of $500,000. This may have led to even more excitement and attention when the actual commercial has been aired during the Super Bowl, and in the end, it was a Blue Moon commercial! Agency: Droga 5 New York. 
PopCorners – Breaking Good 
Frito Lay's popped-corn brand PopCorners revives two beloved characters from Breaking Bad in its first-ever Super Bowl ad: Walter White and Jesse Pinkman. The two characters are played by the original actors in the show, Bryan Cranston and Aaron Paul. Even Raymond Cruz, aka Tuco, is there. If it feels so authentic it's because the ad has been directed by Vince Gilligan, the show's creator. But this time, instead of cooking up meth in their Krystal Ship RV, the crew's content to chomp away on PopCorners' snacks instead. Agency: D3 (Frito-Lay's in-house agency). 
#SuperBowl: a 30-second TV commercial will cost a record $7 million this year. At the first-ever Super Bowl in 1967 it was worth $42,000. 🏈💸

1970: $78,200
1980: $275,000
1990: $800,000
2000: $2,2 million
2010: $3,1 million
2020: $5,6 million

— Matthieu Etienne (@LLLLITL) February 3, 2023
Sam Adams – Your Cousin's Brighter Boston
Boston gets wicked less rude in Sam Adams' 2023 Super Bowl ad. In the 1 minute-long film, Sam Adams' « Cousin from Boston » imagines a better Hub of the Universe, one where you don't get punched in the nose for calling it Beantown… Even the NBA player Kevin Garnett, known for his trash talking, is a choirboy. A great ad, potentially  the funniest of the year, packed with copious kindness and gratuitous good behaviour. Agency: Goodby Silverstein & Partners.
Squarespace – Backstage with Adam Driver 
Squarespace will run its ninth Super Bowl spot this year: a 30-second ad developed by its in-house creative team. The website builder has casted multiple, nearly identical versions of Adam Driver, all rocking a sharp black suit. As he's getting lost into his own thoughts, « A website making websites, making websites, making websites… » becomes an obsession, and might be very memorable in the big game watchers' mind.  The teaser below is also very fun to watch. Agency: made internally. 
Uber Eats – One Hit For Uber One 
In Uber's commercial promoting 'One', its new a subscription bridging Uber rides and Uber Eats, Sean Combs, aka Puff Daddy, P. Diddy, or Diddy, plays to type as a busy music mogul with an important project at hand: creating a theme song for the brand's new service. To do so he enrols legendary hit makers who give a new twist to their hit songs: the Ylvis (« The Fox »), Montell Jordan (« This is How We Do It »), Kelis (« Milkshake »), Donna Lewis (« I Love You Always Forever ») and even Haddaway (« What is Love »). But please don't call it a jingle. Diddy hates that. Agency: Special US. 
Workday – Rock Star 
For its Super Bowl advertising debut, the enterprise software company Workday has produced an outstanding commercial gathering five rock icons: Gary Clark Jr., Billy Idol, Joan Jett, Ozzy Osbourne and Paul Stanley. In the ad, the rockers ask employers to stop calling corporate workers « rock stars ». « We know that using Workday for finance and HR makes you great at your job, » one musician says, while another one finishes: « But that don't make you a rockstar. » Agency: Ogilvy California. 
Want to watch more? ALL the 2023 Super Bowl ads (or the brands' teaser until their official ad is released) are gathered in my playlist below.
It features the commercials from Budweiser, Bud Light, Doritos, Google, Heineken, Kia, Michelob Ultra, the NFL, Paramount+, Pepsi, Pringles, Rakuten… 
Do you agree with my selection? Is your favorite one missing?
Let me know in the comments below or on Twitter! 
Breaking Bad is back! 🧪 At least for 1 minute, as PopCorners revives Walter and Jesse in its 2023 Super Bowl commercial: https://t.co/JxIcxl0LTb #SuperBowl #BreakingBad pic.twitter.com/6xG9SjyHq7

— Matthieu Etienne (@LLLLITL) February 7, 2023
Netflix will soon include more General Motors EVs in its TV shows and movies. The 2 giants kickstart their partnership in this Super Bowl commercial! 🏈 #SuperBowl pic.twitter.com/7ccJWPU0Dk

— Matthieu Etienne (@LLLLITL) February 8, 2023
"Diddy don't do jingles." 🏈🎵
Uber launches 'One', its new service bridging Uber rides and Uber Eats, with P. Diddy, Haddaway, Montell Jordan, Donna Lewis… #SuperBowl #UberOne pic.twitter.com/J8zxVMmjYf

— Matthieu Etienne (@LLLLITL) February 10, 2023